Prerequisites
1. Please ensure that your GXE502x is running firmware version 1.0.1.16 or later. Earlier versions of the firmware did not work in our labs.
Configuration
1. Gather account information.
Go to http://www.OnSIP.com and log into your account. If you have multiple accounts, note the "Active PBX" section on the right-hand side and verify that you are looking at the correct account.
2. Create a SIP Trunk on the GXE502x.
Log into the GXE502x by pointing a web browser at the GXE502x's administrative interface. The default webpage is http://192.168.10.1 and the default username and password are admin/admin.
Click Trunk/Phone Lines and then SIP Trunk. Click the Add button to add a new SIP trunk.
Put in the following settings, filling in the appropriate values from your account: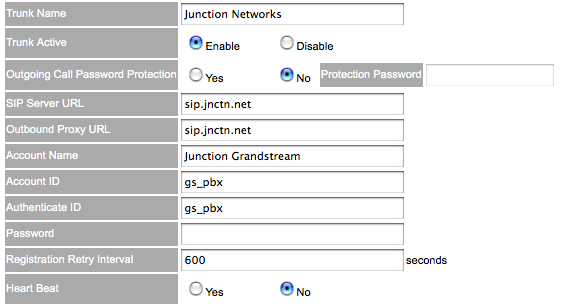 Display Name: Junction Networks
Trunk Active: Enable
SIP Server URL: sip.jnctn.net
Outbound Proxy URL: sip.jnctn.net
Account Name: Junction Networks
Account ID: Username
Authenticate ID: Auth Username
Password: VOIP Password
Registration Retry Interval: 600
Heart Beat: No
Click Submit and verify that the SIP Trunk connected. The list of SIP Trunks should show the connection with Status Connected:

3. Verify that the SIP Proxy registered with Junction Networks. In the GXE502x, the SIP trunk will list the status of the connection as Connected. In the OnSIP interface, click on Configuration. Under SIP Registration, you will see the connection details.