Phone numbers allow callers to be able to call you from any phone. Phone numbers can be attached to users, groups, apps, and resources (except to another inbound OnSIP phone number). When you create a phone number, you can select the area code and region. The last 4-digits are randomly selected from our pool. OnSIP does not offer local or toll-free vanity numbers.
How to Buy a Phone Number
*Phone Numbers (DIDs) are only available to billable Plans; Free Plans can not purchase DIDs.
In the Admin Portal, click Resources tab
click Create New Resource

select Phone Number - there's an indication on this page if you have enough funds to buy a phone number as well as how much each phone number will cost
select Create a New Phone Number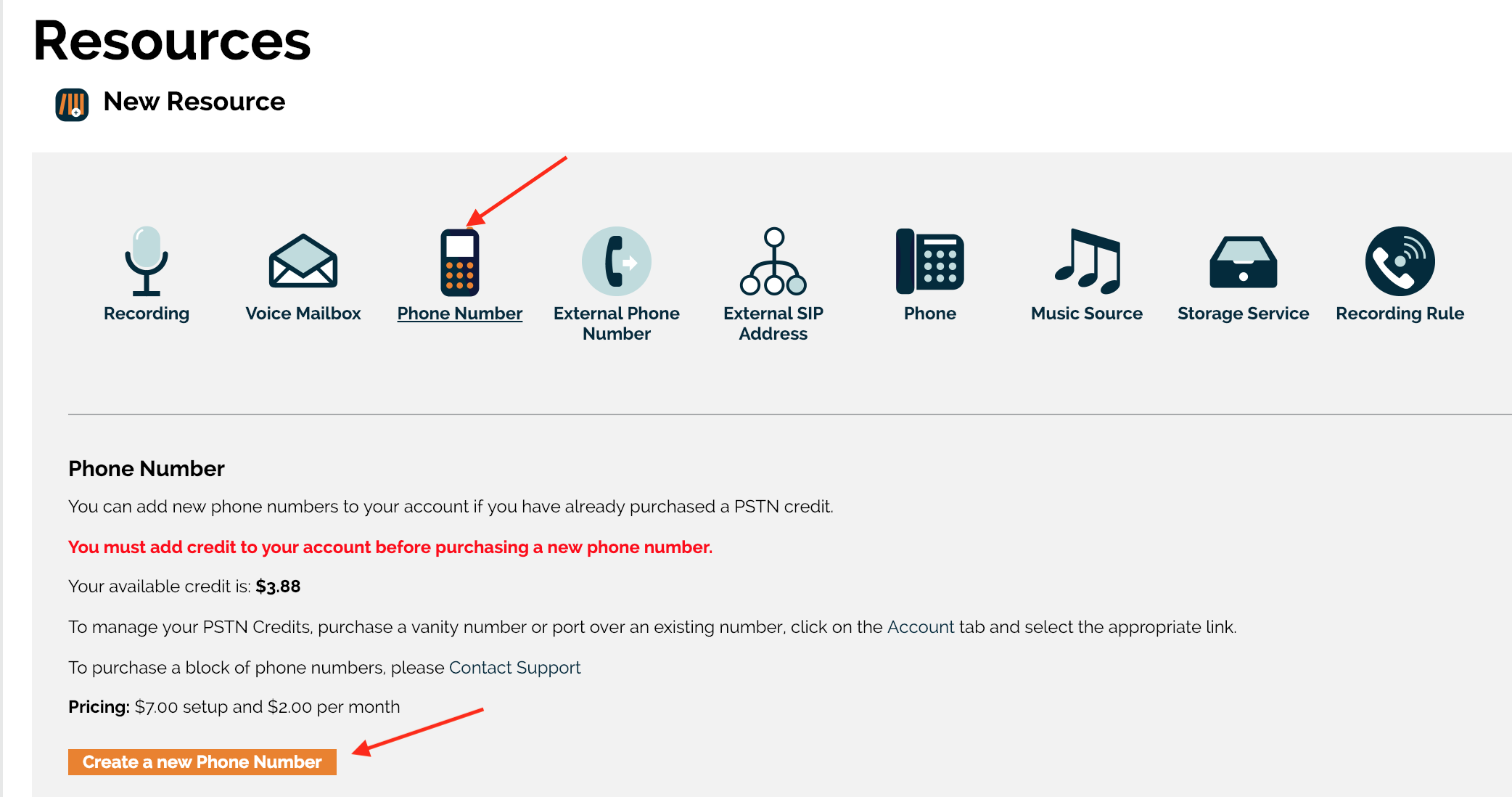 from the dropdown select the Area Code (first 3 digits)
from the dropdown select the Rate Center (next 3 digits)
*OnSIP does not offer local vanity or toll free DIDs. The last 4 digits are randomly pulled from our pool of numbers and cannot be previewed prior to purchase.*
select a Destination
Block Calls Without Caller ID = select ONLY if you wish to block all inbound calls that do not have a listed Caller ID
Note: this can be left blank or you can put your own notes here
lower right Confirm

The new Phone Number (DID) is now listed in your Resources; it is readily displayed once you select the phone number from your Resources list:

Assigning Phone Number Destination
If you wish to change the destination of your phone number(s), clicking on the phone number, then "modify" allows you to choose which user, application, group, or resource you want the phone number to be attached to. You can also assign a phone number from within the "Extensions & Phone Numbers" detail panes of any User (Users tab), Application (Apps tab), Group (Groups tab) or Resource (Resources tab). Typically it's easier to assign the destination directly from the Resources tab.
Updated October 2019