Assigning Locations from the Admin Portal
Once you have at least one location set up for your PBX, you can then enable individual users for E911 access and assign them to a location.
For this step, choose "Users" from the "Menu Bar" in the Admin Portal.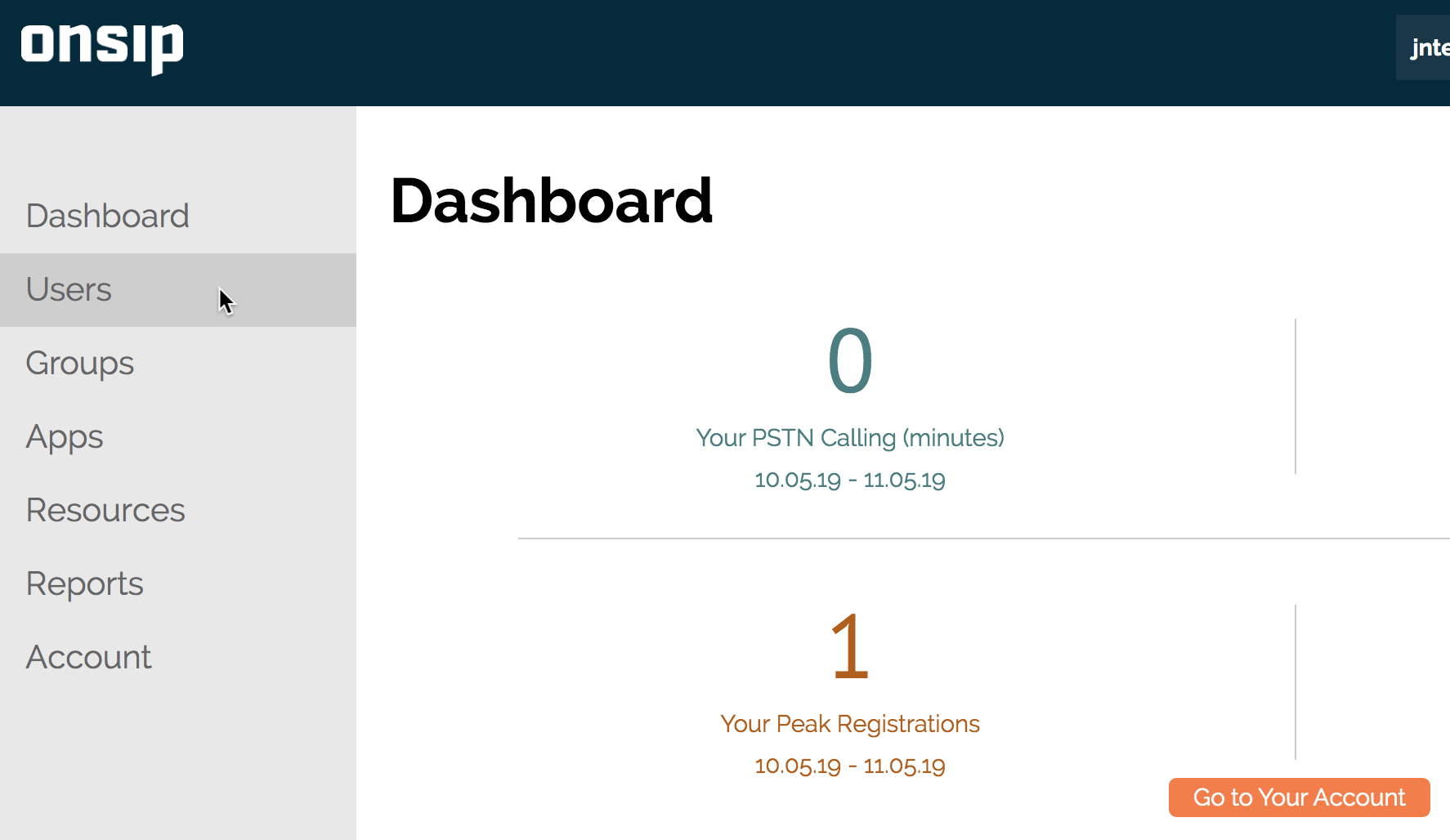 Locate the user name in the Users list and click on the name.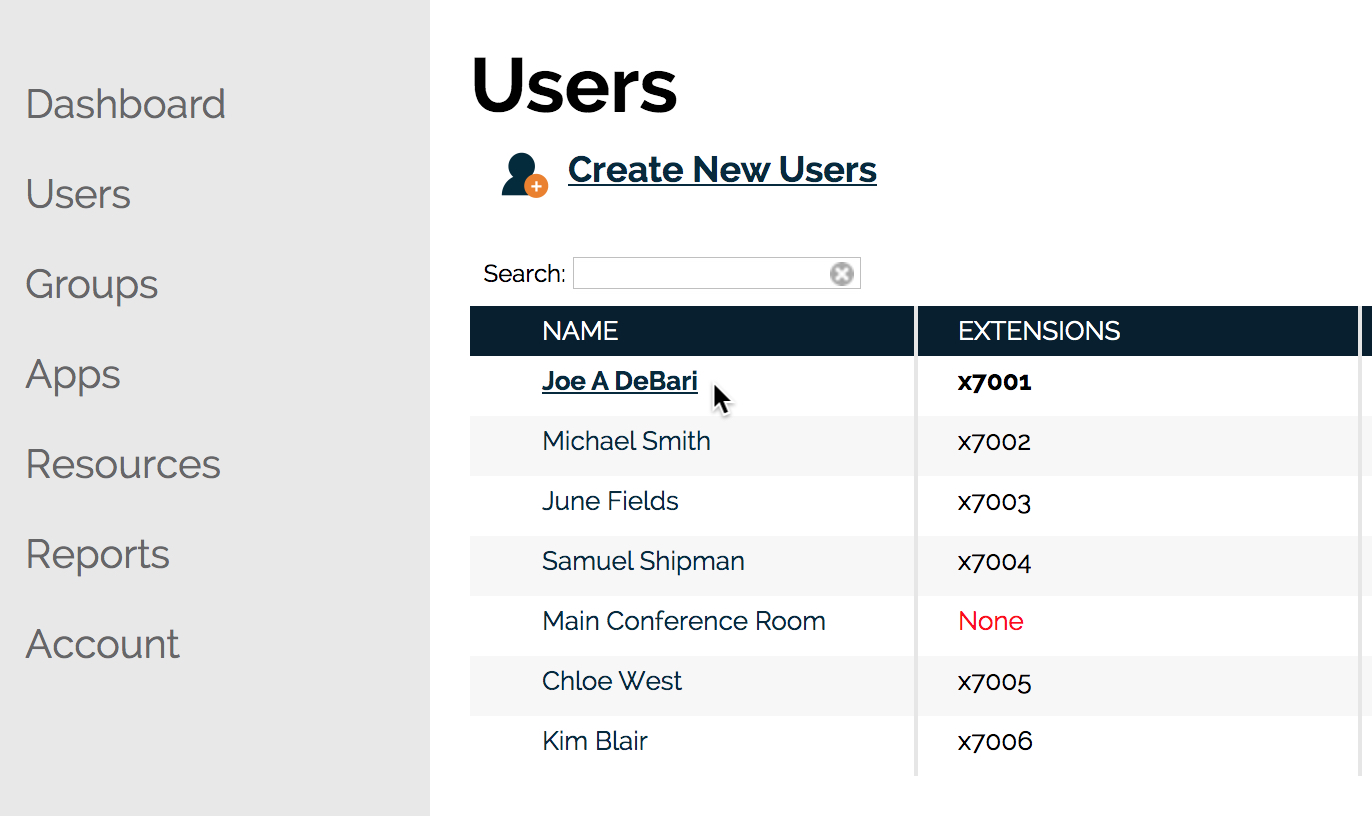 Scroll down to locate the E911 location box. Until you set a location for a user, you will see the following error message under the "E911 Emergency Response Location" section for that particular user:

Click "Modify" to assign a location to this user. By default, None is selected. If you do not wish for a User to have the ability to set 911 through the OnSIP app, OnSIP recommends selecting E911 Disable option. From the dropdown, choose one of the existing "Shared Locations" or "Add Private Location." Private locations can only be viewed by the administrator and that user.
Note: Private locations allow you to enter in residential locations for work-at-home users without everyone being able to see the home addresses of all of the other employees in the company. The input fields for a Private Location are exactly the same as those for Shared Locations.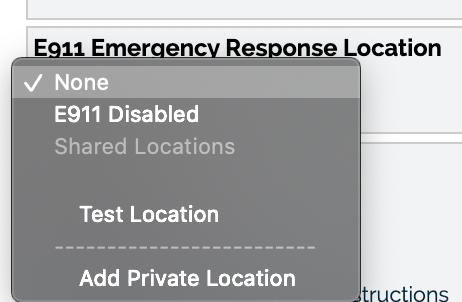 Click "save" to save the E911 location for that user. Once saved, that user now has an Emergency Response Location for their phone. If the user dials extension 911 from their phone, that address will be forwarded to the 911 operator.
Note: If a user does not have an E911 location assigned to them, even though the PBX is enabled for E911, they will not be able to make an E911 call. Calls to ext. 911 will result in a recorded message stating that they must assign a location to that user.
OnSIP app and E911
When you enable E911 for your account, all Users will be set to None by default. This means when Users log into the OnSIP app, they will get the pop-up that will allow them to set their 911 location and the feature for their User, at $1.80/mo. They can also choose to set later. If the User chooses to set later, they will have a banner across the top of their screen that advises they can not call 911 from a said device:
​

​
When you enable E911 for your account and have gone to the User tab and specifically set the User's 911 status to E911 Disabled, when that User logs into the OnSIP app they will not be able to choose their 911 location (can not enable 911) and they will see a banner across the top of their screen that advises they can not call 911 from said device. They can physically dial 911 but will hear an error message telling them 911 is not available from this device.

Here's what the image looks like in the Admin Portal >User tab >911 box for specific User:
​
​


OnSIP is required by law to post the limitation of 911 if the feature has been disabled/not available to the User. The User can Close the warning banner, but the next time they log in to the OnSIP app, it will be again present. This is the image of the warning banner in the OnSIP app:
​

​
Updated June 2020