Overview
In addition to the Enhanced Queue Reporting Dashboard in the OnSIP app, Enhanced Queues allow you to receive periodic email summaries of your queues' performance. As an Account Admin, you can select to send daily, weekly, monthly, or quarterly summaries of your Enhanced Queue's historical reports. Email Reports are included with Enhanced Queues at no additional cost.
Configuring Email Reports
Setting up Email Reports for your ACD Queue is a short process and can be completed through the Admin Portal. First, on the Apps page, find and click on the ACD Queue that you'd like Email Reports for, and locate the section titled "Email Reports."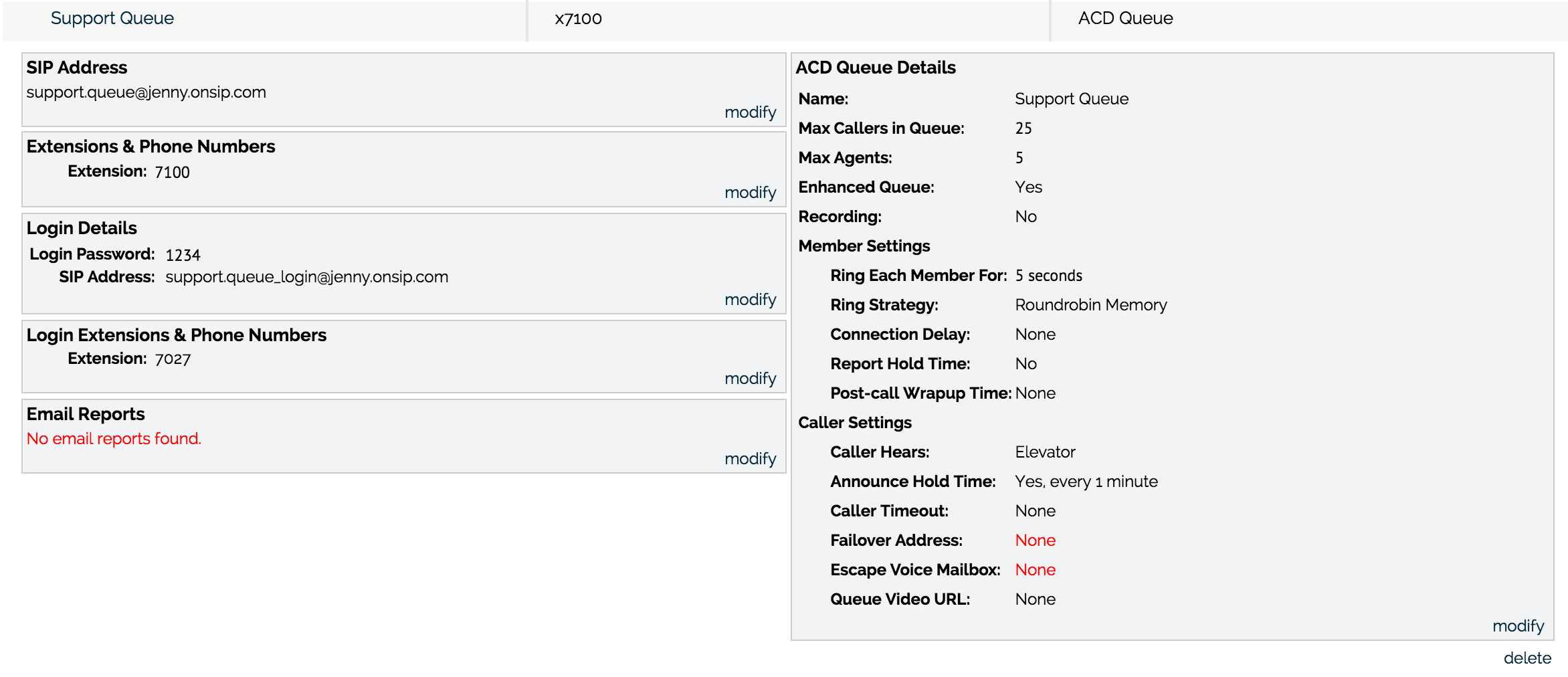 Note:  If you do not see an Email Reports section, please ensure that your queue is a Enhanced Queue.  Email Reports are not available for Simple Queues.
Click the "modify" link in the Email Reports section to begin editing Email Reports rules.  Choose how often you'd like a reporting summary to be emailed out and enter the email address to which the report should be sent.

If you'd like to add more than one rule, click the "+" and "-" buttons to add and remove rules.  Up to 7 Email Reports may be configured for each Enhanced Queue.
When done, click the "save" link to save your settings.

Reports are emailed as attached .CSV files.
Frequency of Reports
When configuring Email Reports, you can choose to have them sent Daily, Weekly, Monthly, or Quarterly.
Daily reports are sent each morning, containing summaries of the previous day's queue activity.
Weekly reports are sent each week on Monday morning, containing a summary of the previous week's queue activity.  Weeks are tracked Monday to Sunday.
Monthly reports are sent out on the first of each month, containing a summary of the previous month's queue activity.
Quarterly reports are sent out on the 1st of January, April, July, and October.  Quarterly reports contain a summary of the queue's activity over the past three months.
What to do if the settings do not display
Created July 2015
---
Learn more about OnSIP's built-in reporting tools