OnSIP customers can record calls made and received on their account for quality, training, and compliance purposes. You can record calls for selected users (or choose to record the calls of every user on the account), as well as select the direction of calls to record (inbound, outbound, or both).
In order to set up Call Recording, you must also link your OnSIP account with a supported third party Storage Service Provider (SSP). Once that is completed, recorded calls will be uploaded to the SSP, where you can access them.
Supported SSPs are:
Amazon Simple Storage Service (S3)
Google Cloud Storage
Rackspace Cloud Files
Follow these instructions to set up the Call Recording feature on your account.
Create an Account with a Supported SSP
Please see these articles on creating an SSP account:
Once you have created an SSP account, add the SSP credentials in your OnSIP account.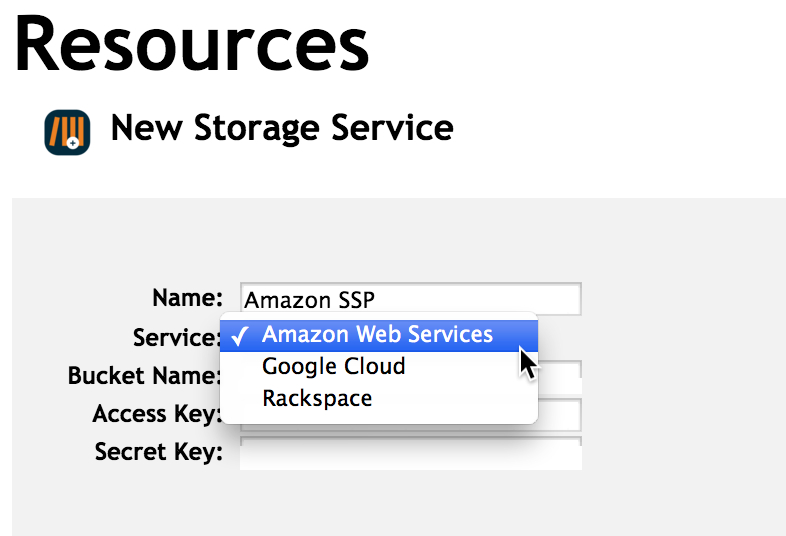 Log into the Admin Portal at admin.onsip.com
Navigate to the "Resources" tab, click on the "Create New Resource" link, click on the "Storage Service" icon, and then select the "Create a new Storage Service"button.
Type in a descriptive name for your provider and select the provider you've chosen from the "Service" dropdown menu.
Depending on which provider you've selected, the setup fields will change:
For Amazon Web Services (AWS):
Type in or paste the bucket name of the bucket you've just created in the AWS storage account.

Copy and paste both the Access Key and the Secret Key into their respective fields. These keys were provided when you created the account in AWS.
For Google Cloud:
Enter the Project ID in your Google Cloud account where your bucket was created.

Enter the Bucket Name of the bucket where you'd like your calls to be stored. Select the JSON key file (given to you by your Google Cloud account).
For Rackspace:
Enter the Container Name, found in your Rackspace account, where your calls should be stored.

Enter the API Key used to access the Rackspace API.

Enter the Username of your Rackspace account.
When you've finished entering the information, select the "Confirm" link - you will see a note stating that you've successfully created the SSP in your OnSIP account.
Create a Recording Rule
Once you have added the SSP credentials to your account, you will then create a Recording Rule. Recording Rules let you define when a call should be recorded and in which SSP those recordings should be stored. Calls matching the recording rule will automatically be uploaded as they are made and received.
A recording rule costs $4.95 per user recorded by the rule. If you select to "Record Whole Organization", you will be billed $4.95 times the total number of users in your organization.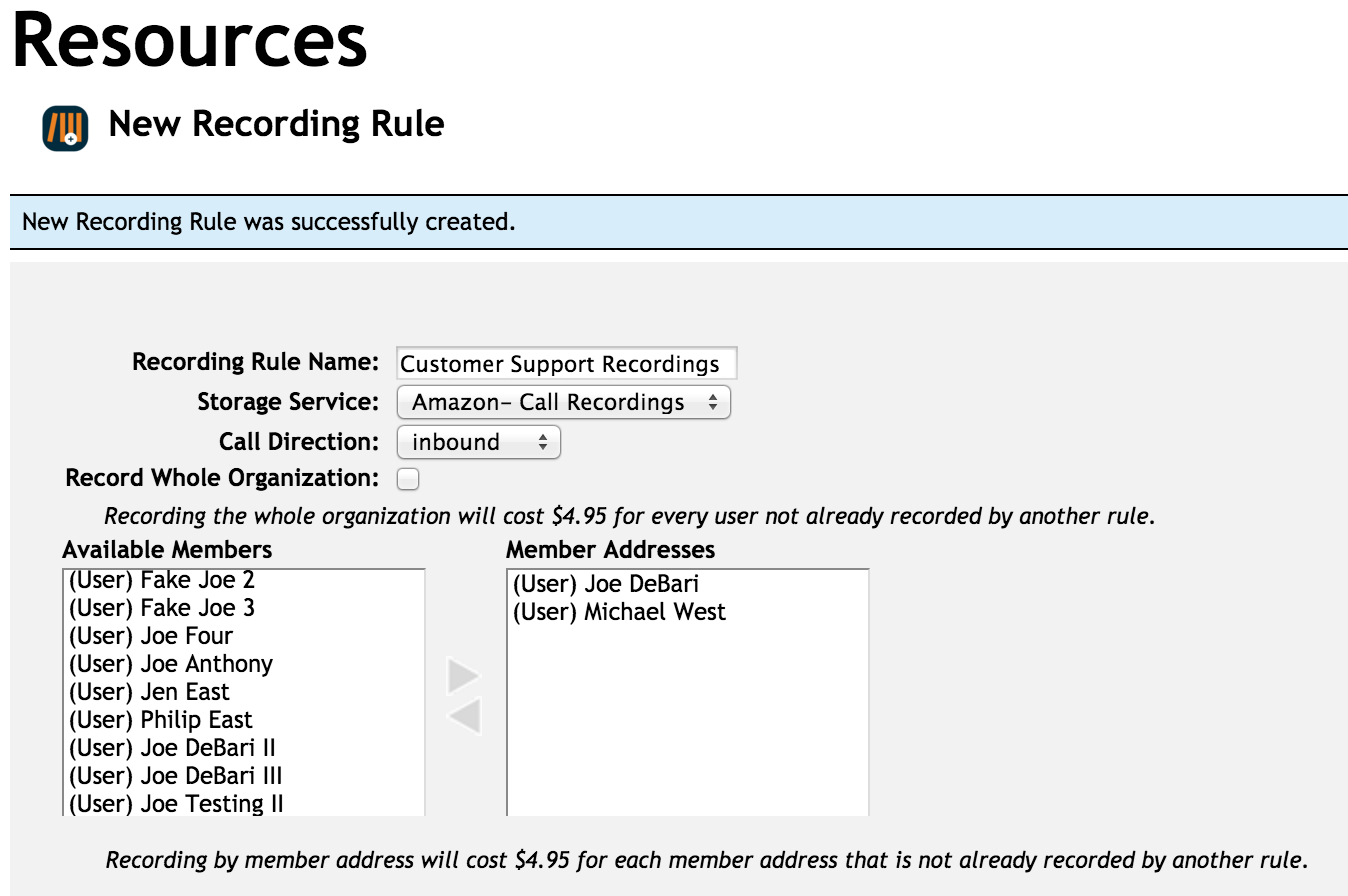 In the OnSIP Admin Portal, navigate to the "Resources" tab, click on the "Create New Resource" link, click on the "Recording Rule" icon, and then select the "Create a new Recording Rule" button.
Give the recording rule an appropriate name.
Select an existing storage service to save the recordings to.
Select the direction category of calls to record. "Inbound" records all calls to users in your organization, "Outbound" records all calls placed by your organization users, and "Both" records all calls made and received.
Specify whether you want to record calls for all users in your organization, or whether you want to record calls for select users.
If "Record Whole Organization" is unchecked, you can select a set of member addresses to record. Highlight users in the left column, and click the right arrow to add them to the recording rule. You can use Shift+Click to highlight consecutive users between clicks, and Ctrl+Click (or Cmd+Click on Mac) to highlight multiple users. Note that "Record Whole Organization" only watches user addresses, not apps and other non-users.
Click "Confirm"
All calls matching the recording rule will automatically be uploaded to your SSP account as they are made and/or received.
Accessing and Reviewing Your Call Recordings in Your SSP Account
To access your recorded calls, log into your SSP account to retrieve and replay the recordings.
Log into your SSP and go to the SSP Bucket, Project or Container.
Find the "Call Recording" folder.
Inside that folder, you will see a directory structure like "YEAR/MONTH/DAY/TIME-TO-FROM.wav
Editing a Recording Rule

Click the name of the recording rule you would like to edit in the list of resources on the Resources page.
If you want to modify the details under "Recording Rule Details," click on that box's "modify" button. If you want to edit the member addresses or make the rule record all users in the organization, click on the "modify" button under "Recording Rule Member Addresses".
Edit the recording rule settings as you wish and then click on "save."
**Please note: It can take up to 90 minutes for your call recording to appear in your storage service during the busiest parts of the day.
Legal Disclosure
The Call Recording Rule allow users to record calls or other communications. The notification and consent requirements relating to the recording of calls and other communications vary from state to state and from country to country. You should consult with an attorney and review all applicable laws before using the Call Recording Rule to record any calls or other communications. Some states and countries may require callers or users to obtain the prior consent of all parties to a recorded call or other communication before a user may record the call. Violations of the call recording Laws may be subject to criminal or civil penalties. OnSIP expressly disclaims all liability with respect to users' recording of telephone conversations or other communications. See our website for complete Terms of Service.