Created: 06/28/18
Beta Notes:
The OnSIP Mobile application is currently in beta release and available for both the iPhone (iOS) and Android devices.  It's also only available to download to iOS and Android devices in the United States.
During this beta release period, please submit all application suggestions via the application itself by clicking on "Settings" and choosing "Provide Feedback."  Please do not send enhancement suggestions or bug reports via the app store review as we will not always know how to get back to you and we will not be able to trace application functionality to your installation.
The OnSIP Mobile app is an on-the-go business phone and complete desk phone replacement. With just your mobile phone, you can make instant HD voice and video calls to your coworkers and other contacts. The app is also a great collaboration tool for your team, offering voicemail management, call history, and more. The OnSIP app is free to use for all OnSIP customers.
Overview
The OnSIP mobile app is available for both Apple devices (iOS) and Android in their respective app stores.  Simply search for 'OnSIP'.
Logging in
OnSIP users can log into the app with their SIP addresses and passwords.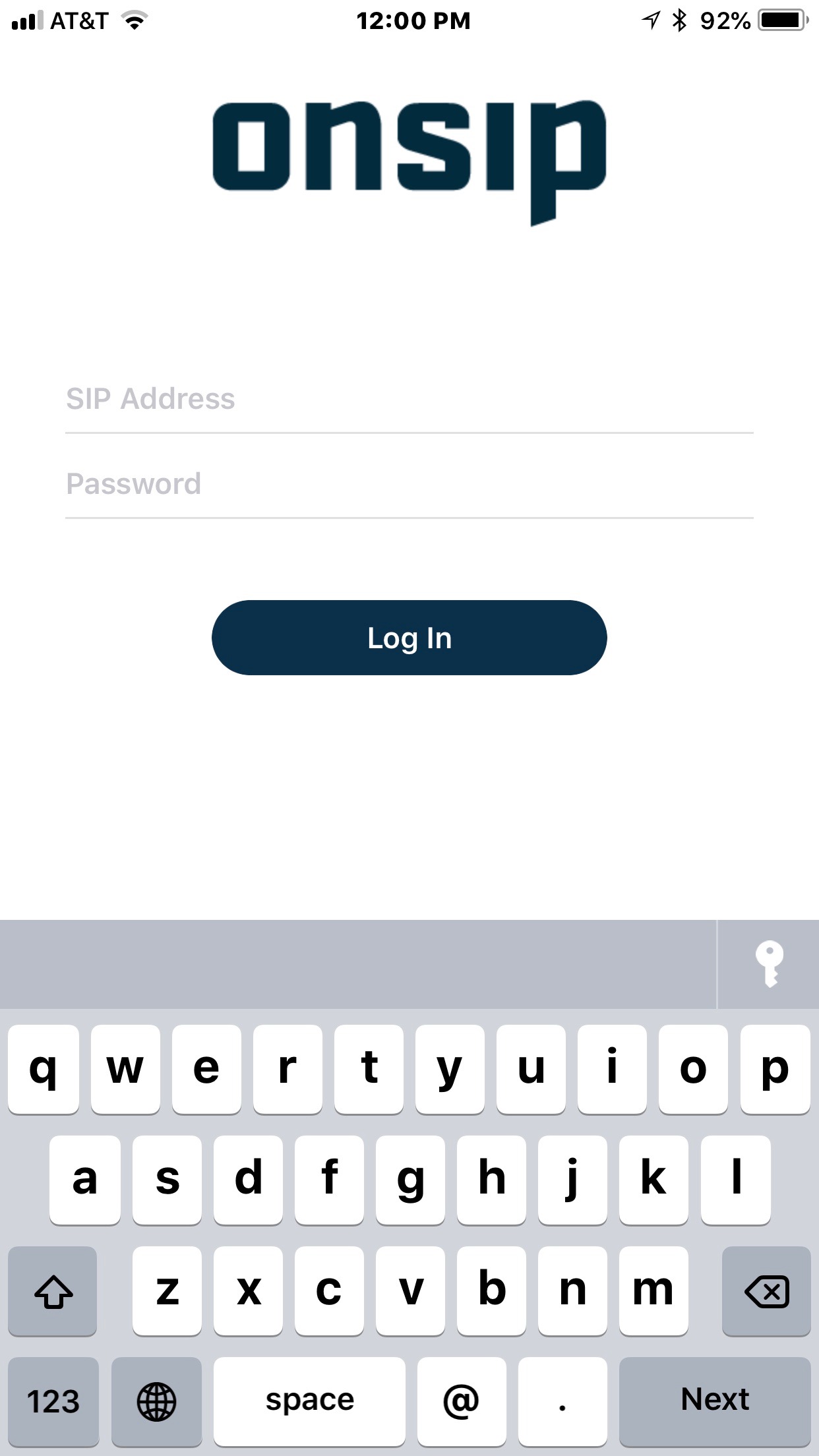 If users do not remember their passwords, please go to app.onsip.com can click on the "forgot password" link. An email will then be sent to the email address associated with the SIP address with password reset instructions.
Contacts
Upon first login, your Contacts list will be a list of all users in your OnSIP organization in alphabetical order.
You have the option to add Custom Contacts as well. These are contacts outside of your organization. Simply click on the "+" (plus sign) and type in their name and the 11-digit phone number or SIP address in the corresponding fields. Select the Create Contact button to add your custom contact(s) to your list.
Removing Contacts
You can only remove custom contacts from your list.  If you remove a custom contact by mistake, you can add them back at any time using the Add Contacts function.
Calling 
The OnSIP app can make and receive calls from phone numbers, internal extensions, and other SIP addresses. Video calls can be made and received to and from other video-capable phones.
Answering Inbound Calls
An inbound call will trigger a notification within the app providing the caller ID name and phone number. To answer the call, select the Accept button that appears in the calling window. The OnSIP app will automatically know if the inbound call is a video or audio call, and manage it accordingly.
Call Handling Features
While you are on a call, you can perform these functions:

 Call Transfer: Select the opposite-facing arrows button to initiate a call transfer. Enter the destination for where you want to transfer the call, and select "Attended" or "Blind". For detailed instructions, visit 'Call transfers in the OnSIP app'.

 Call Hold: Select the pause button to place the call on hold.

 Call Mute: Select the microphone button to mute your audio.

 Pause Video: If you are on a video call, you can pause (hold) your video feed by selecting the camera button.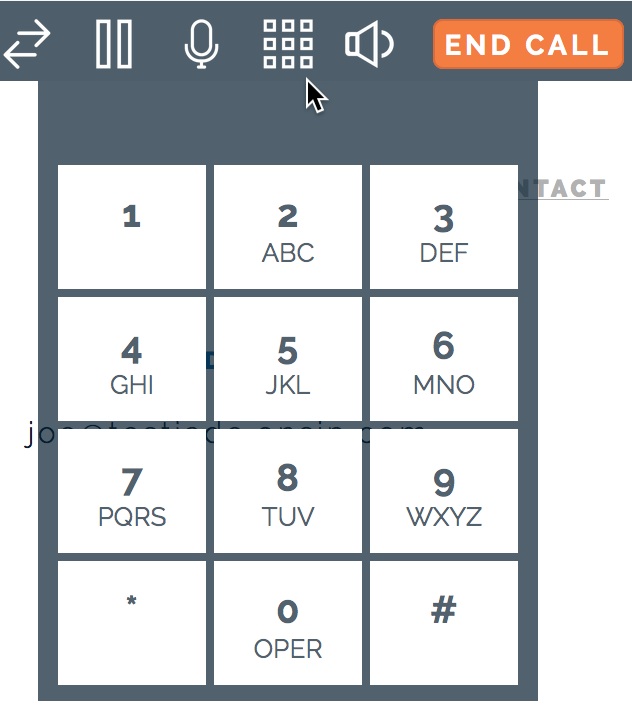 Keypad: Select the dialpad button to bring up a number pad (necessary if you need to enter digits for an extension, phone menu option, conference call PIN, etc.).
 Volume: Select the volume button to raise or lower the audio level in the call on your mobile device itself.
To end the call, select the orange End Call button. 
Placing Outbound Calls
The OnSIP Mobile app can be used for outbound calling to phone numbers, internal extensions, and SIP addresses. Calling phone numbers requires the use of 11 digits, a 1 + area code + phone number.
To place a call choose the "Keypad" icon and enter the phone number or extension.  In order to make a video call, the person you are calling needs to be on a video-capable phone or softphone.
If the person you wish to call is on your Contacts list, simply click on his/her name and select the Voice Call or Video Call button.
Multi-Call Management
The OnSIP app is capable of making and receiving multiple simultaneous calls, thus acting as a multi-line phone.
When a user is on multiple calls, the calls will appear in separate lines on the phone. The active call will be marked as such, while other calls will say "on hold."  You can "swap" between the calls and if both calls are to OnSIP users, you can even merge the two calls.
Recent Calls
Recent Calls displays all calls made and received (with history up to January 2015). Each call is listed with the date and time of the call, the duration of the call, and the To and From caller information. To redial, simply select a call from the list and click on the green Voice Call (or Video Call) button at the top of the page.
Settings
Settings provides customization options by user.
Browser Calling: Enable/disable app calling by toggling the On/Off button. By disabling app calling, you will no longer be able to make or receive calls using the app.
User Profile: This displays your personal information, including your name, phone number, internal extension, account ID, call forwarding options, auth username, and SIP password. You can upload/change your profile picture in the OnSIP app and change your app login password here.

Set your personal call forwarding preferences with the two options for "Inbound Calls Ring For" and "Then get sent to." From the "Inbound Calls Ring For" dropdown menu, set the time length that you want calls to ring for before they are sent to your failover destination. Then, choose the failover destination from the "Then get sent to" dropdown menu. Note that your Account Administrator will have to add a voicemail box or external phone number (e.g., a smartphone) in the Admin Portal before you can send calls to that number. For instructions on how to add external phone numbers in the Admin Portal, see the Configure User Call Forwarding Preferences Knowledgebase article.

Call Preferences: Here, you can register or unregister your associated SIP addresses by toggling the On/Off button(s). You can also set your primary SIP address by choosing your preferred address from the dropdown menu.

Finally, you can opt to auto-answer incoming calls by toggling the On/Off button. In Chrome or on the desktop app, the OnSIP app can be set to auto-answer incoming calls— meaning incoming calls will be automatically answered, requiring no user intervention.

Chat: If your organization uses Slack, you can enable a Slack integration with the OnSIP app. This integration allows you to send messages from the OnSIP app to a user in Slack, and vice versa. Please see our Slack Integration Knowledgebase article for more information on the feature, as well as how to enable it on your app.
App Volume: Use the blue bar to adjust the volume of your audio.
Notifications: Set app calling notifications for when you are not actively looking at the OnSIP app. These are desktop pop-up notifications for call hangups, incoming calls, call transfers, Enhanced Queue alerts, and chat messages. Each of these can also be enabled and disabled individually.
E911 Location: You can select an address to be your E911 location by clicking on the arrow next to the displayed address. This will open a list of E911 locations added to your OnSIP account by your admin user. Select your location from the available options and click the green "Set Location" option. If you have multiple locations you may need to scroll down to see your address.
Queue Alert Rules: If you have Enhanced Queues on your OnSIP account and you are a queue supervisor, you can configure Enhanced Queue Alert Rules.
Voicemail
If you have a voicemail box, Voicemail allows you to access your messages. When you have a new message, an indication will appear next to the 'Voicemail' icon. To listen to your messages, simply select the row of the voicemail you wish to hear, and a dropdown box will appear. You can play the message, call back, or delete the message from your mailbox.
Log Out
Clicking Log Out under the 'Settings' icon signs you out of the OnSIP app.
For more information, visit our OnSIP app FAQs page.
Updated June 28, 2018