Overview
The OnSIP mobile app is available for Apple devices (iOS 11+) and Android (6+) in their respective app stores within the United States and Canada. Simply search for 'OnSIP'.
The OnSIP Mobile app is an on-the-go business phone and complete desk phone replacement. With just your mobile phone, you can make instant HD voice and video calls to your coworkers and other contacts. The app also offers voicemail management, call history, and more.
The OnSIP app is free to use for all OnSIP customers.
Music on Hold (MOH) is not currently an available feature with the OnSIP mobile app but is in development.
Logging in
OnSIP users can log into the app with their SIP addresses and passwords.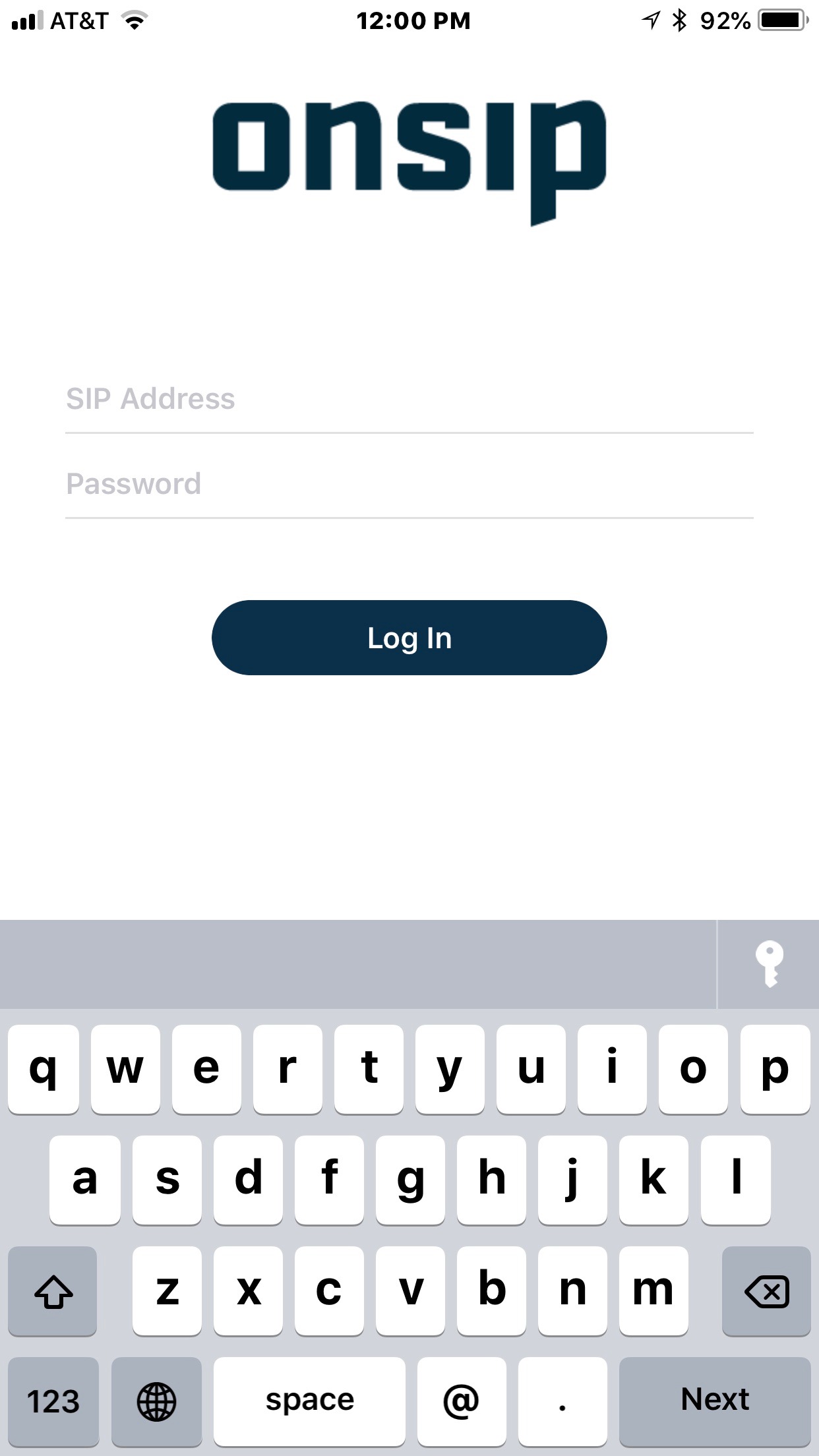 If users do not remember their passwords, please go to app.onsip.com can click on the "forgot password" link. An email will then be sent to the email address associated with the SIP address with password reset instructions.
Calling
The OnSIP app can make and receive calls from phone numbers, internal extensions, and other SIP addresses. Video calls can be made and received to and from other video-capable phones.
Answering Inbound Calls
An inbound call will trigger a notification within the app providing the caller ID name and phone number. To answer the call, select the Accept button that appears in the calling window. The OnSIP app will automatically know if the inbound call is a video or audio call, and manage it accordingly.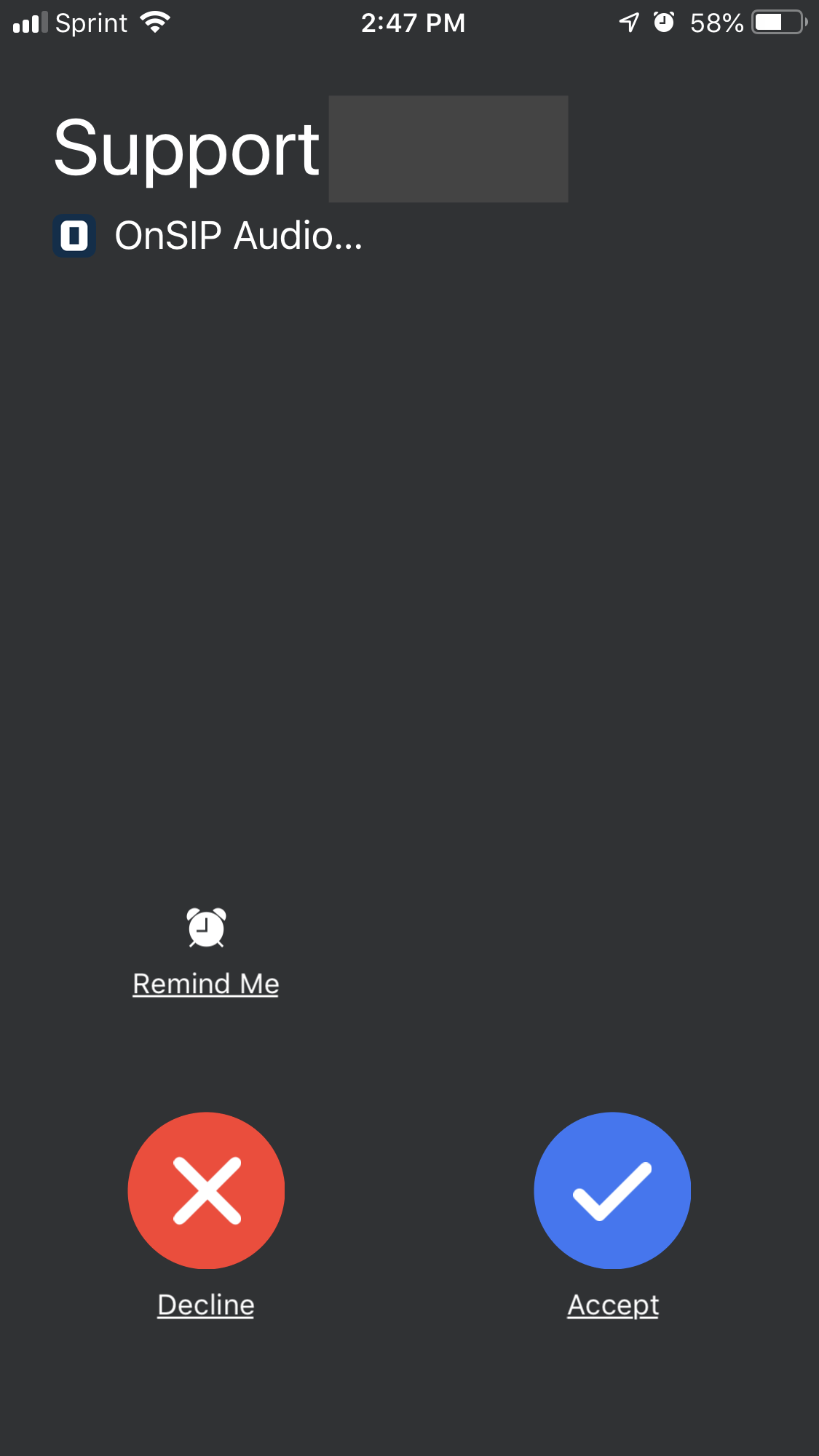 Call Handling Features
While you are on a call, you can perform these functions:


Mute: Select the microphone button to mute your audio.
Keypad: Select the dial pad button to bring up a number pad (necessary if you need to enter digits for an extension, phone menu option, conference call PIN, etc.).
Speaker: Select the speaker button to place the call on speakerphone.
New Call / Hold: Select the New Call button to place the call on hold. To retrieve the call, click Active Call in the green banner across the top of your screen and then press the Hold button to resume the call.


Transfer: Select the opposite-facing arrows button to initiate a call transfer. Type the extension or 11 digit phone number of destination for where you want to transfer the call. The OnSIP Mobile app only performs blind transfers.
Video: If you are on a video call, you can tap your screen to bring up the keypad, select the New Call button, which will then place your video on hold. To retrieve the video call, click Active Call in the green banner across the top of your screen and then press the Hold button to resume the video call. During a video call, this button allows you to flip from the front-facing camera to the rear facing camera.
Volume: Use your device's volume control buttons to raise or lower the audio level in the call.
End Call: To end the call, select the red button at the bottom.
Placing Outbound Calls
The OnSIP Mobile app can be used for outbound calling to phone numbers, internal extensions, and SIP addresses. Calling phone numbers requires the use of 11 digits, a 1 + area code + phone number.

To place a call choose the "Keypad" icon and enter the phone number or extension. In order to make a video call, the person you are calling needs to be on a video-capable phone or softphone. If they do not, the call will become audio-only after they accept.

If the person you wish to call is on your Contacts list, simply click on his/her name and select the Voice Call or Video Call button.
Multi-Call Management
The OnSIP app is capable of making and receiving multiple simultaneous calls, thus acting as a multi-line phone.

When a user is on multiple calls, the calls will appear in separate lines on the phone. The active call will be marked in bold color at the top of your screen, while other calls will say "HOLD" and marked in a grayed out color. Pressing the "SWAP" button will switch from call to call, but does not conference/merge the calls.
Contacts
Upon the first login, your Contacts list will be a list of all users in your OnSIP organization in alphabetical order.

You have the option to add custom contacts as well. These are contacts outside of your organization. Simply tap the "+" (plus sign) and type in their name and the 11-digit phone number or SIP address in the corresponding fields. Select the Create Contact button to add your custom contact(s) to your list.

It's also possible to call your iPhone contacts (not available for Android) by opening the contact, long-pressing the phone icon, and selecting "OnSIP" as the method of calling them.
Favorites
As a first step, we recommend filling your Favorites with the coworkers you call the most. Not only does it save you a few taps every time you go to call them, but it also has the added benefit of real-time presence information.

You have the option to select your Favorite contacts as well (both customized and within your organization). To do so, tap the "+" (plus sign), select your favorites, then press "done".
Removing Contacts
You can only remove custom contacts from your directory. To delete/remove your custom contacts, tap the trash can icon and the option to select all unwanted custom contacts presents itself. You can not delete OnSIP organization contacts that are automatically uploaded to your list.

To remove contacts from your Favorites list follow the same procedure in the Favorites tab. Tap the trash can icon, select the contacts you wish to remove from your Favorites list, then tap "Done".
Presence / Icons next to Contacts in Favorites
A video icon tells you that person is logged into the OnSIP app and can receive video calls, while a handset icon tells you they are not using a video-enabled device. If either icon is orange, that person is currently busy with another call. There will not be an icon next to a customized contact (someone you added that is not within your OnSIP account).


Recent Calls
Recent Calls displays all calls made and received (dating back to January 2015). Each call is listed with the date and time of the call, the duration of the call, and the To and From caller information (TO = up arrow, FROM = down arrow). To redial, select a call from the list and click on the option for Voice Call (or Video Call).

Settings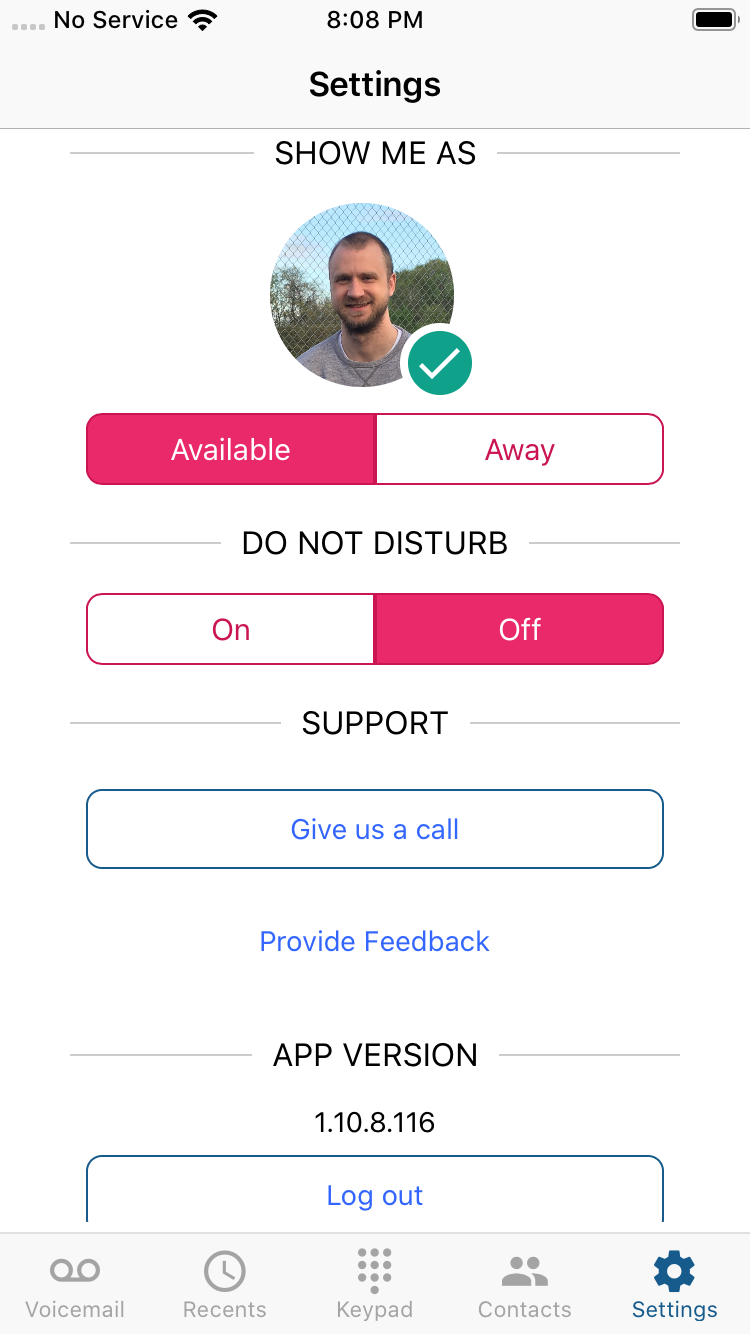 Available/Away: This toggle, as well as the icon next to your photo, indicates your Global Availability setting. This setting affects all devices you are registered to and syncs between desktop, web and mobile. Setting yourself to "Away" will prevent any of your devices from ringing, sends all incoming calls directly to your failover, and prevents your user from appearing in any sayso topics until you become "Available" again.
Do Not Disturb: Unlike Global Availability (Available/Away), this is a "local" setting. If Do No Disturb is turned on in the mobile app, the mobile app will not ring when your user is called. If you are logged into the desktop/web app or registered to a desk phone, those devices are unaffected by this setting. Do Not Disturb is useful if you are sitting at your desk and don't want multiple devices ringing upon calls.
Call Support: Allows you to reach our Customer Success Team directly
Provide Feedback: Sends feedback directly to our Development Team
Log Out: This button logs you out of the mobile app completely

Voicemail
If you have a voicemail box, Voicemail allows you to access your messages. When you have a new message, an indication will appear next to the 'Voicemail' icon. To listen to your messages, simply select the row of the voicemail you wish to hear, and a drop-down box will appear. You can play the message, call back, or delete the message from your mailbox.
All of your new and saved voicemail messages in one interface, with caller name, duration, and date information at a glance. Tap to listen, tap to call back, and tap to delete (including "delete all"). If you send your voicemail notification is set to "delete after sending" there will be no messages in your voicemail; they are in your email.
For more information, visit our OnSIP Mobile app FAQ page.
Updated October 15, 2019
Created: June 28, 2018