What Is It?
Your organization's Team page is a visual directory for website visitors to see if your customer-facing team members are online and available. If a team member is available, visitors can make a voice or video call directly from their browser to any of your available members.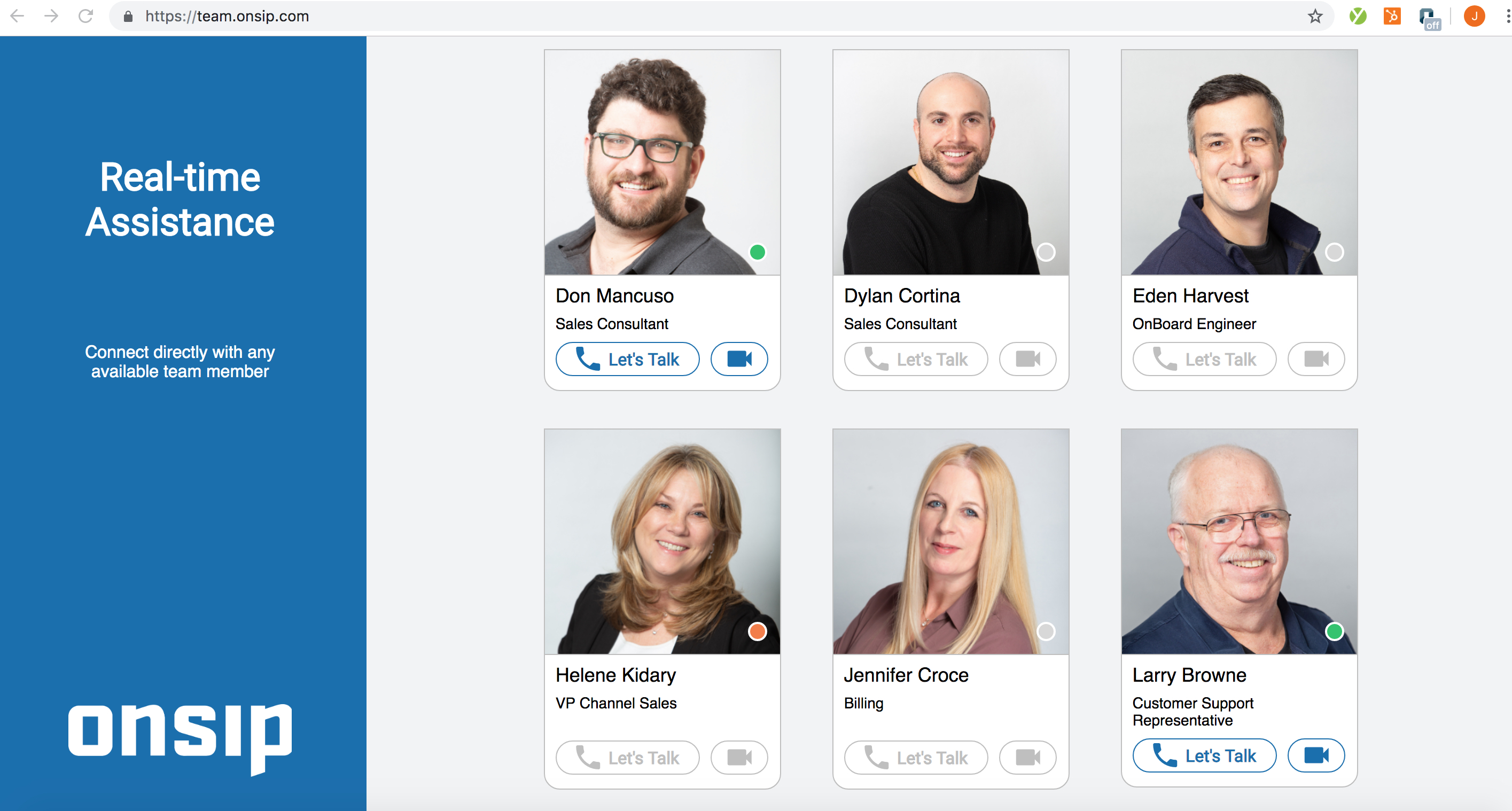 A Team page is automatically created upon signing up and is available at a URL consistent with your OnSIP domain. For example, if your SIP address is hiro@example.onsip.com, then your team page is hosted at https://example.onsip.com.
You can customize which members of your team appear on this page. For example, you may want your sales or support staff to be easily available for calls while omitting the rest of your staff.

Personal Pages
Every member of your organization will automatically receive a Personal page. These pages can be accessed either by clicking the photo of a member on your Team page or by visiting a URL consistent with your SIP address. For example, hiro@example.onsip.com would have a Personal page at https://example.onsip.com/hiro.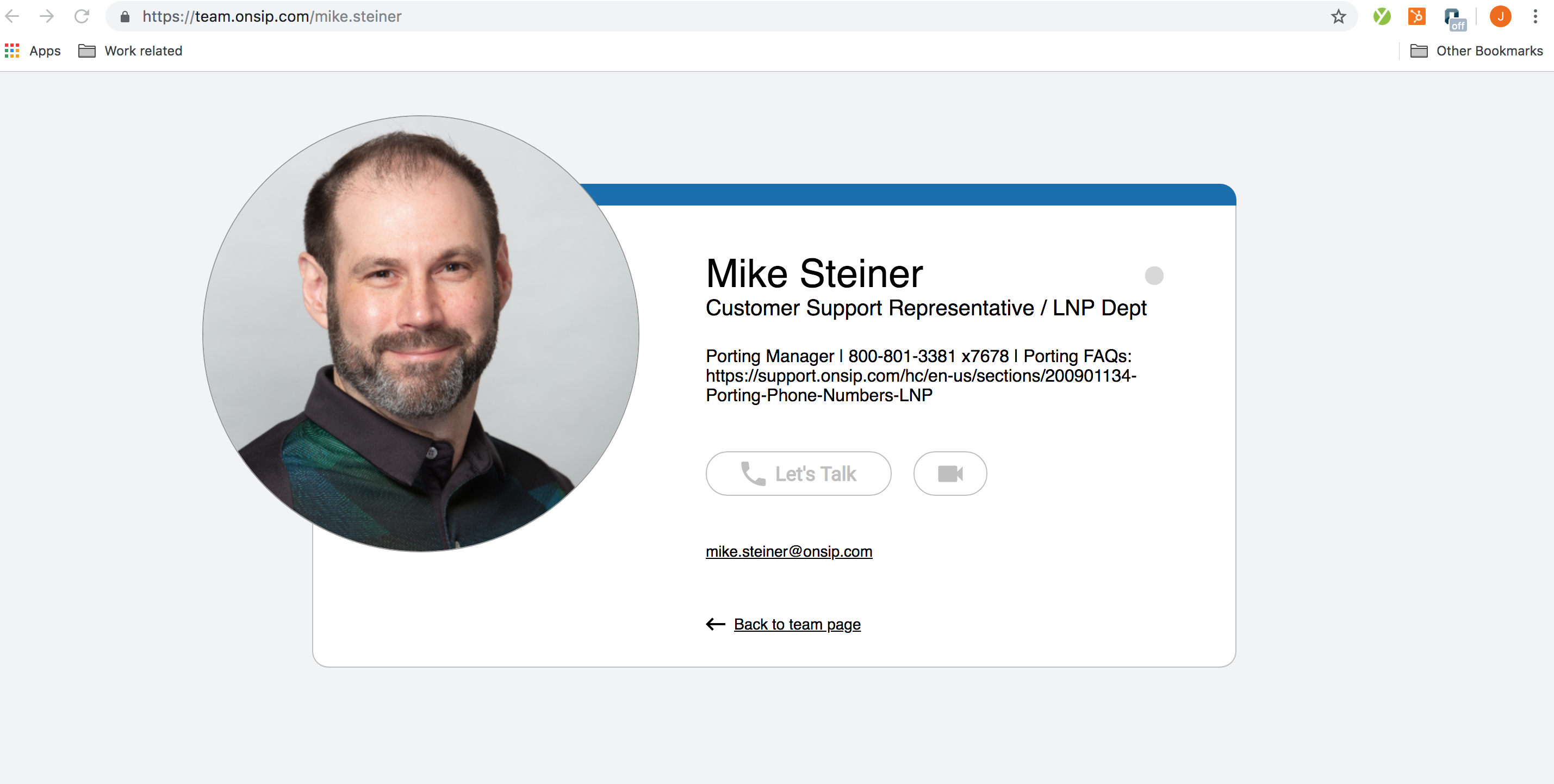 Note: Team and personal pages will not show up in search engine results, so it's entirely up to you to share them with the world. It's also up to each user whether or not they wish to display their email address or social accounts on their Personal page.


Team Page Management
Management of the team page is done via the OnSIP desktop/web app. All users can update their Personal profile and manage their availability. Organization administrators can also update the look and feel of the organization's team page.

Updating Your User Profile
Each user manages their profile independently via the OnSIP desktop/web app. To do so, log in, click on your profile picture in the upper right corner, and then click on "General Settings".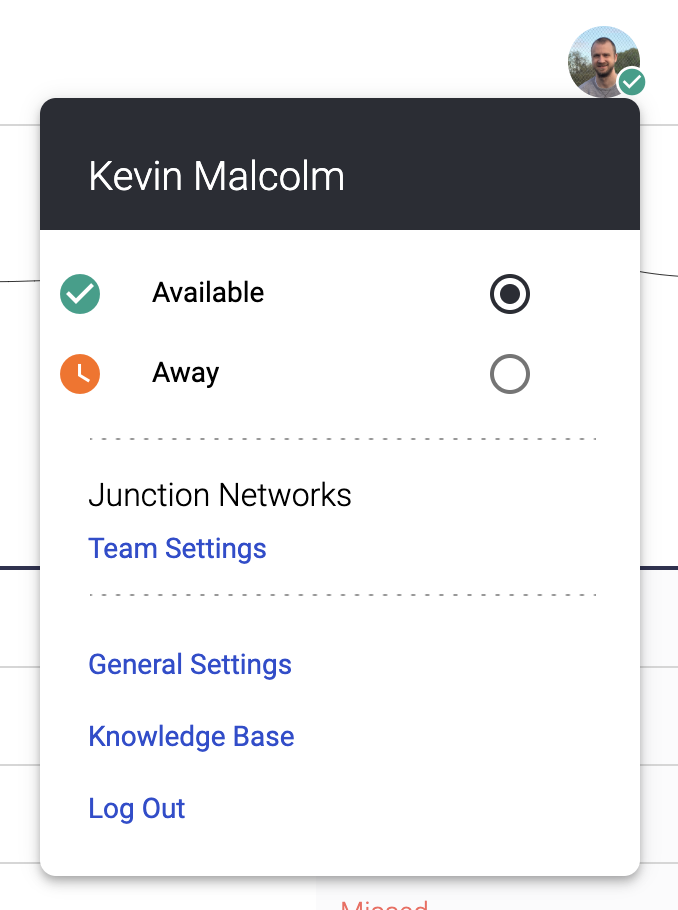 On the General Settings tab, you will have the following options for your profile:

Upload a new picture. This is displayed on your Team and Personal pages.
Add or edit your job title. This is displayed beneath your name on the Team and Personal pages.
Add or edit your "About Me" text. This is displayed on your Personal page.
Choose whether or not you'd like to display your email address on your Personal page. (This is the email address associated with your SIP address, as displayed underneath "Email")
Add or edit your Social Media links. These can be displayed on your Personal page.
Your Personal page URL is displayed beneath "Personal Page." Clicking on the URL will automatically open the page in a new browser tab.

Manage Availability Shown on the Team/Personal Page
There are 3 states that a user can appear in: Available (green), Away (orange), and Busy (red).
In order to appear as Available, the user must log into the OnSIP app at least once. From there, the user may set himself Away. This is a global setting which syncs across all devices you are logged in/registered to. If a user sets himself as Away on any device, he will not receive any calls on any device until he resets himself to Available. More information here.
If a user is on a call, they will appear as Busy, regardless of whether they set themselves as Available or Away.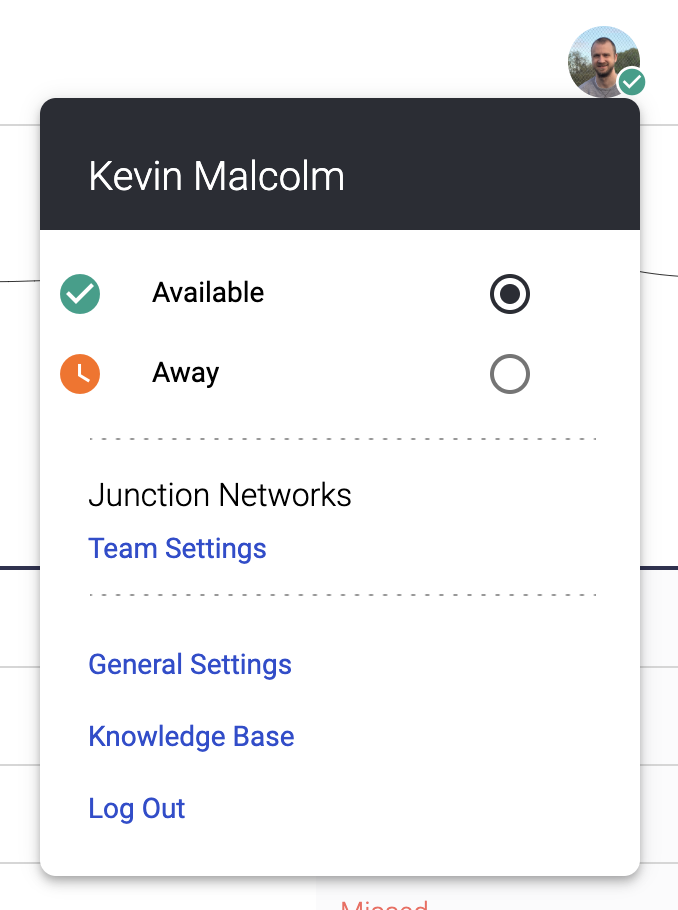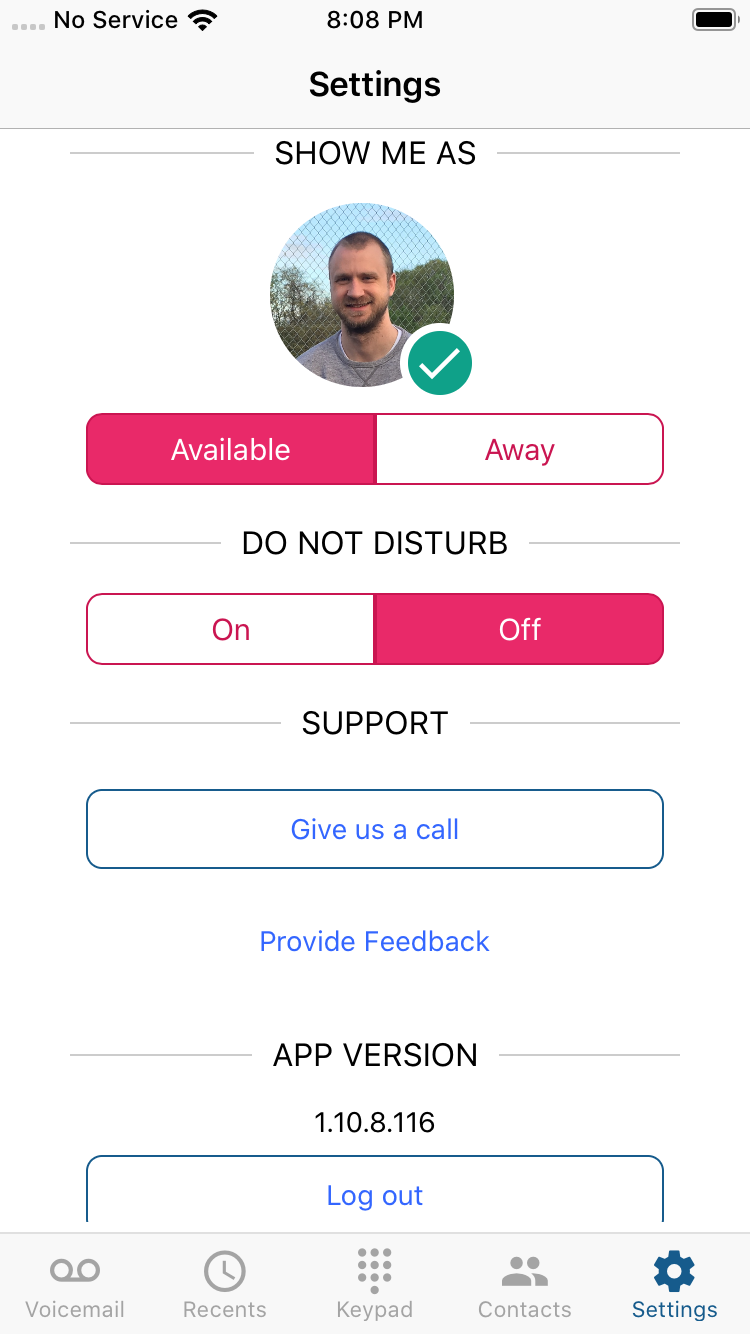 Updating the Look & Feel of the Team Page
Organization admins can update the colors, logos, company name and which users are displayed on the Team page via the "Team Page" link in the navigation.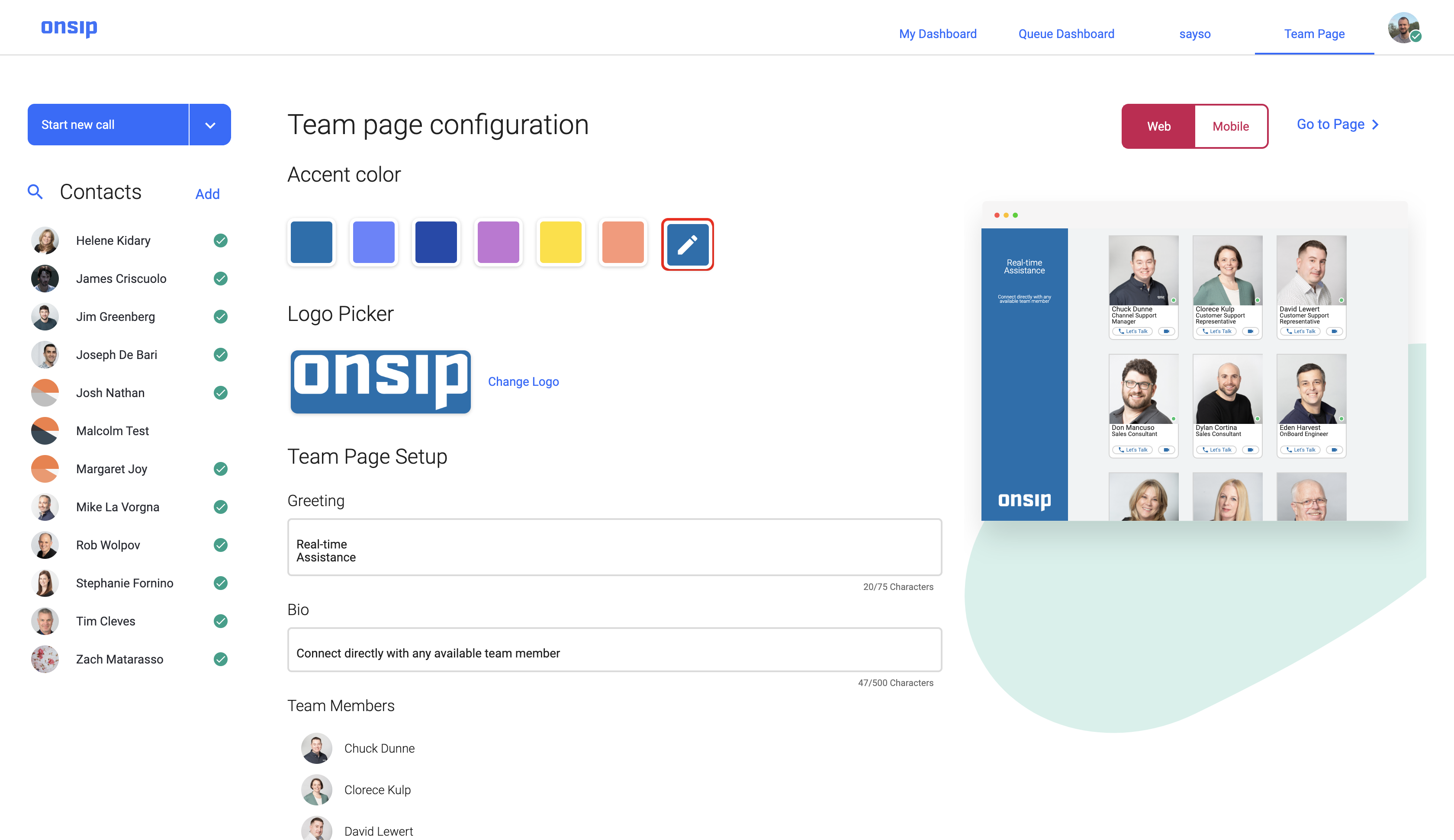 Clicking on the "Go to Page" link in the top right will open your organization's Team Page in a new browser tab.
To customize the accent color of the Team Page, click on 1 of the 6 color boxes under "Accent color." You can also access a color picker tool by clicking on the 7th box with the plus sign "+" in it. That will allow you to choose any color you wish (via the color bar) or to enter hexidecimal values by inputting it in the "Hex" text field.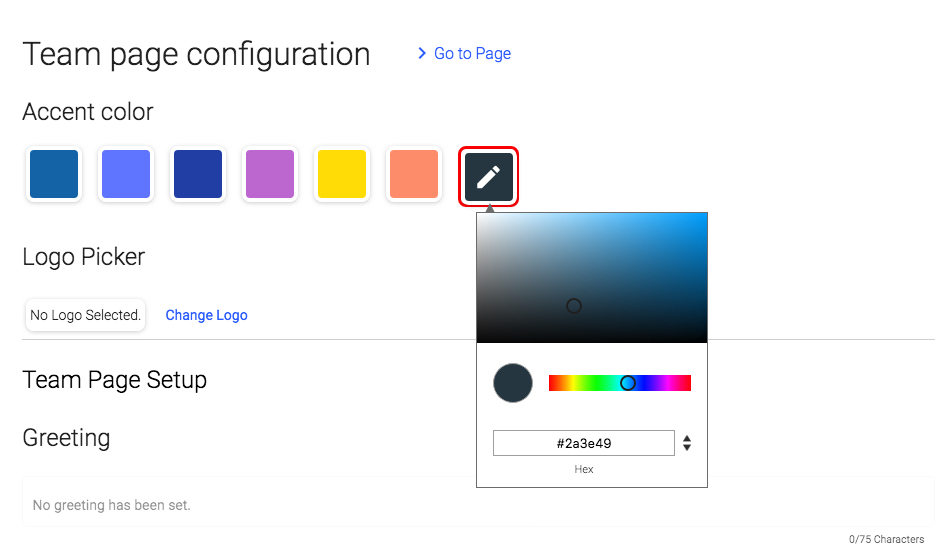 To update your company's logo, click the "Change Logo" button under "Logo Picker." You can upload a new logo by click and drag or clicking to be prompted for the file location. You may also delete the logo without replacing it by clicking on the "Delete Current" button.
Clicking on the text field boxes underneath "Greeting" and "Bio" will enable you to update your company greeting and descriptive biography. To save your text, simply click somewhere off of the text fields.
To add your employees to your company's Team page, click on the "Add Users" link at the bottom of the user list. A dropdown will appear that displays all users on your account. Simply click on the name of the user to add them to your Team page. If you know the name of the user who you wish to add, type in their name in the text field. When the user appears in the dropdown, click on their name to add them to the page.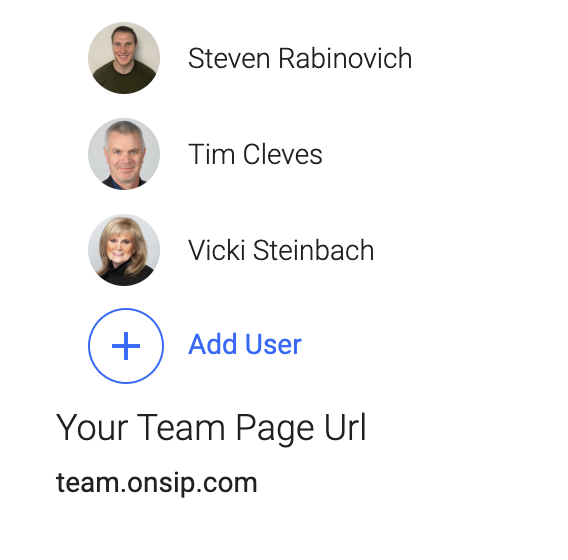 To remove employees from your Team Page: hover your mouse cursor over the name of the user that you wish to remove. An "X" will appear to the right of their name. Click on that "X" to remove them from your page.
If a user is disabled in admin.onsip.com , they will be automatically excluded from the team page, even if they were previously enabled under the Organization Profile.
Screen Sharing in Video Calls
When you use the OnSIP web or desktop app to answer a video call from your sayso call button, your Team Page, or your Personal Page, you'll have the option to share your screen with the video caller at any time during the call. See our Knowledgebase article on 'Screen Sharing in Video Calls' for more information on the ability.
Updated May 2020