This device must be manually configured.  Do not add MAC Address to Resources.
OnSIP only has experience with the Yealink CP920, which can be added to the Yealink Boot Server.  We have not actually used this device in-house.  If you need information on the functionality of these phones, please reach out to the phone manufacturer and/or their User Guide.
Prerequisites
Yealink now allows public download of documentation and software at http://www.yealink.com
Phone Configuration
Step 1: Gather information for each user.
Each user has a set of credentials which will be needed to configure each phone. For each phone that you are configuring, obtain the following:
SIP Address (Address of Record)
SIP Password
Auth Username
Username
Domain
Outbound Proxy
You can find this information in the user detail pages under the Users tab in the Phone Configuration section.

Step 2: Log into your Yealink phone through a web browser.
When your phone is powered on and connected to your LAN, use a browser to navigate to the IP address of your phone. You locate your phone's IP address by touching Settings and then General (under Status). Note down the IP address and enter into the address bar of your browser on a computing device connected to the same network that the phone is.
Enter the username (admin) and password (admin) into the login page displayed.
Step 3. Enter your user information from Step 1.
Once logged into the phone click on the Accounts tab and then Register on the left side menu.
Line Active > Enabled
Label > Whatever You'd Like
Display Name > Whatever you would like others to see when you call them
Register Name > Auth Username
User Name > Username
Password > SIP Password
SIP Server 1 / Server Host > Domain
SIP Server 2 / Server Host > leave blank
Enable Outbound Proxy Server> Enable
Outbound Proxy Server 1> sip.onsip.com
Outbound Proxy Server 2 > leave blank
NAT >Enable
Scroll down to the bottom of the page and click on Confirm. If successful you will see a green phone icon at the top of the home screen.
Step 4. Verify the Codecs
Once the page has refreshed, left side of screen select Codecs.
Verify that the following are listed in the Enable codecs section: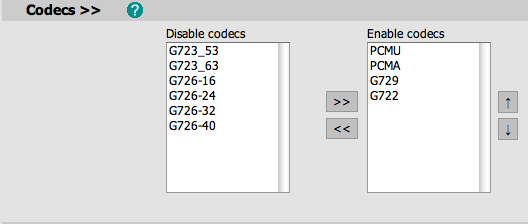 from Yealink.com Published: