Known Issues
8/16- Aastra 5xi series phones are configured to send a provisional response, or PRACK, with the 100 rel setting enabled, When calling to or from the OnSIP app or any encrypted audio enabled client, it tells our proxy to send the phone the encryption information, and breaks the call. We are investigating, but at this time we can not find a way to disable the 100 rel setting at the user level. We can not recommend using this model in a setting where the OnSIP app would be calling to or from an Aastra phone. 
There is a serious security hole in the web interface for Aastra phones that allows anyone with access to the configuration pages to be able to see the sip credentials, including the SIP Password, in the source code of the web pages.
For this reason, we very strongly urge the following steps be taken to secure the phone:
Change the administrative password for phone access, The default password is widely know, and makes access to the web interface easy. It's also a best security practice.
Keep ALL phones behind a NAT device at all times. Ensure that there are no web interfaces accessible at port 80 from your network to the internet.
We have reported this issue to Aastra. Presently there is no timeline for a resolution. 
Prerequisites
Aastra now allows public download of documentation and software at:
Aastra and Mitel firmware downloads
Phone network configuration completed.
The following instructions assume your phone has successfully booted and completed network configuration including obtaining valid IP addresses for itself, an IP gateway and DNS servers either via DHCP, manual or other means (refer to your Aastra Administrator's Guide) and that your phone is running with factory defaults.
Phone is running firmware release 2.2.0 or better.
You can find the firmware version your phone is currently running by using the "Options" button on your phone and navigating to "Phone Status" -> "Firmware Info". If you are running a version prior to 2.2.0, please upgrade your phone's software before proceeding (refer to your Aastra Administrator's Guide).
Phone Configuration
Step 1: Gather information for each user.
Each user has a set of credentials which will be needed to configure each phone. For each phone that you are configuring, obtain the following:
"SIP Address" (Address of Record)
"SIP Password"
"Auth Username"
"Username"
"Domain"
"Outbound Proxy"
You can find this information in the user detail pages under the "Users" tab in the "Phone Configuration" section.

Step 2: Log into your Aastra phone through a web browser.
When your phone is powered on and connected to your LAN, use a browser to navigate to the IP address of your phone. You locate your phone's IP address by selecting "Options", then scroll to phone status and finally to IP&MAC addresses. The factory default administrative username for the phone is 'admin' and the factory default password is '22222'. Go to Operation and select "Reset" then reset the Factory Defaults and Remove Local Config settings. Then, Select "Line 1".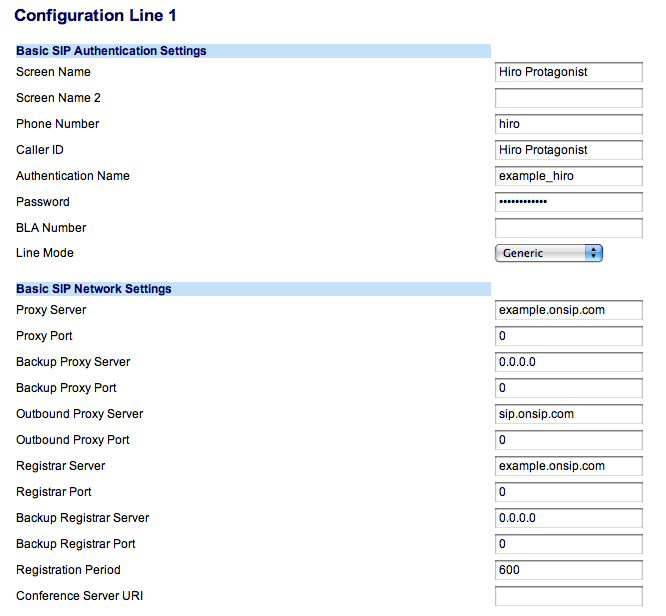 Step 3. Enter your user information from Step 1.
Basic SIP Authentication Settings Section
Screen Name > Whatever you would like others to see when you call them.
Phone Number > "Username"
Caller ID > Whatever caller ID you would like displayed on outbound calls.
Authentication Name > "Auth Username"
Password > "SIP Password"
Line Mode> Generic
Basic SIP Network Settings Section
Proxy Server> "Domain"
Outbound Proxy Server> sip.onsip.com
Registrar Server> "Domain"
Registration Period> 600
Click the "Save Settings" button.
Step 4. Confirm that you have disabled all Network Address Translation (NAT) settings.
We handle all NAT related issues. If your phone was set to factory defaults before you began configuration, your NAT section will appear as below:
Note: Version 3.2.2.56 - You MUST assign each phone a static internal IP address and then set the NAT IP address to that IP address and set the NAT SIP Port to 5060 and the NAT RTP port to 3000.
Step 5. Disable unnecessary codecs.
Navigate to RTP Settings under Global SIP Settings. For "Codec 1" choose "Basic" from the drop down Codecs box. Lease the rest as "none." This is all that is necessary for compatibility with OnSIP and sending extra codecs can cause problems with packet size.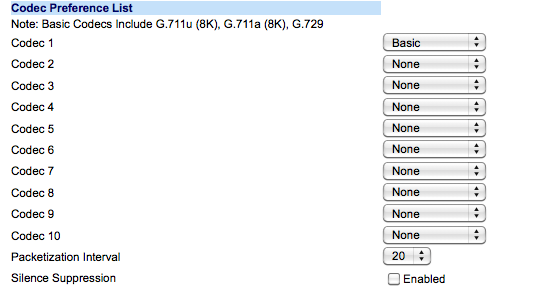 Previous to version 2.5
Navigate to RTP Settings under Global SIP Settings and check the "Basic Codecs" box. This is all that is necessary for compatibility with OnSIP and sending extra codecs can cause problems with packet size.
Step 6. Confirm that your phone is registered.
In the Admin Portal, click on the "Users" tab. You will see a green "online" notation next to each user with a registered phone.
Troubleshooting
If you are experiencing trouble, double-check your settings as described above and be sure to verify that your password was entered correctly without any leading or trailing spaces. If you are still having problems with your phone configuration, please see our troubleshooting section for further help.
Review of the 57i
The Aastra 57i (firmware v2.5.2.30) is a feature-rich, customizable business SIP phone 'ideally suited for executives and heavy telephone users who require more one-touch feature keys and a large screen to take full advantage of XML based programs.'
Indeed the phone comes with a 144 by 128 pixel LCD screen, and 6 dynamic context-sensitive softkeys that align the sides of the display. These soft-keys also make up half of the 12 programmable keys that come with the phone. For more one touch feature keys, the Aastra has given their 57i expandability options: the phone itself can support three Aastra M670i modules, each of which offers 36 keys with LED indicators, or three of the 'advanced' Aastra M675i modules, each of which offers 60 keys and its own LCD display and LED system. That's a lot of buttons for one person! We can't imagine anyone needing more than a hundred customized one-touch buttons, but its nice to know that the extras are there should someone need them.
The phone comes with 4 lines, a built in full-duplex speakerphone, and wideband audio compatibility. The phone does not actually come with HD voice, but it is available through Aastra's Hi-Q audio technology, a software-based 'acoustic optimization' upgrade that comes with the latest firmware versions. 
First Impressions
We've heard a lot of good things about this phone. TMC's Tom Keating gave it a lengthy, glowing review and called it one of his "favorite VoIP phones". NerdVittles.com calls the Aastra 57i "the world's best asterisk phone". Given all the buzz about this piece of equipment, we just had to get our hands on one and test it out ourselves.
The Aastra 57i makes a very good first impression. For a little over 200 bucks, it comes with a 144 by 128 pixel graphical LCD screen, probably one of the biggest displays we have ever seen. The resolution isn't great, resulting in blocky-looking text. The latest firmware releases also upgrade the sound quality considerably, giving the phone wideband audio support.
The look of the phone is all business. Silver on black, sharp edges, with almost 20 LEDs. The handset is just around the right weight; not too light that it has a hollow feel, but also not too heavy. We do wish that the handset would feel more secure when we hang up the phone, but this is a minor issue. After the many attempts to accidentally not hang up the phone were unsuccessful, the wobbly handset no longer bothered us.
OnSIP Interoperability Test
At OnSIP, we put each of the phones we use through a multi-step interoperability test in which we put the phones through 30 test cases. An example of a test case would be the following:
Test phone calls phone B
B picks up
B puts Test phone on hold
B calls phone C
C picks up
B transfers test phone to C

Call must be transferred correctly to C. B must be released correctly after the transfer. When C picks up, audio must work in both ways between test phone and C. When test phone is on hold, there is no audio between it and phone B.
We are very happy to say that the Aastra 57i passed each case. 
Voice Quality
We're currently running the latest firmware version on our 57i, version 2.5.2.30, and the voice quality is quite good. We were excited to learn about the wideband audio upgrade software upgrade, and even more excited that it did not disappoint. Wideband audio automatically kicks in for all calls that successfully negotiate the use of G.722 codec, and is available for all the 67xxi phones, meaning that enhanced audio quality is available not only to the 57i, but also to the 55i, 53i, 51i, 31i and 30i. It isn't quite up to par with Polycom phones, but the users will still appreciate the vast improvement. 
Speakerphone
The new software upgrade also extends to the speakerphone but the difference in quality is not as noticeable. 
Ease of Use
The Aastra 57i is very user friendly. The large LCD screen and the accompanying navigation buttons make many of the functions incredibly easy to access. Users can view up to four options at a time when they need to look through a long menu list, making searching for desired choices painless. The phone does not have dedicated hard keys for 'transfer' or 'conference' because it is all taken care of with the context sensitive keys. For example, when a call is not in progress, the context sensitive keys at the bottom half of the LCD may either be blank or customized with one-touch features. When a call is incoming, the keys change to "answer" and "ignore", and when a call is in progress, the keys change to correspond with the "drop", "public", "conference" and "transfer" functions.
One of the main selling points of this phone is its advanced XML capability to access custom applications. Currently, some of the most valuable applications like Visual Voicemail, which allows you to selectively pick which of your messages you want to play based on the Caller ID, are only available with Asterisk-based PBXs. Freely available apps include Google, CNN, Netflix, ESPN, etc.
More advanced features are also supported. For example, you can track the phone status of another member of your team and see when they're available from your LCD screen. Some of these features are covered in depth inTMC's review of the phone.
Final Thoughts
We highly recommend the Aastra 57i to executives or to anyone who is constantly on the phone. The large LCD screen, and the wideband audio compatibility are both huge selling points. The phone is also highly customizable, which is always a plus. The fact that users on an Asterisk-based PBX can take advantage of some very useful XML applications is icing on the cake.
---
See our top business VoIP phone recommendations for 2017