Review
It is beginning to look like 'wideband audio' is the new buzz term in the VoIP industry. The interesting thing about wideband audio, more popularly known as 'HD' voice thanks to the marketing people at Polycom, is that it has been available for quite some time. OnSIP has supported the industry standard G.722 wideband codec since 'HD' IP phones first came out, and since then, we've been huge fans of the increase in voice quality.
The truth is that the hardware has been ready for years and the support is just catching up. Providers who had not jumped on the bandwagon in the past are getting the picture and rolling out wideband support. If you or your business is looking to take advantage of some of these services, then you'll need an 'HD' phone. Some of these devices can cost you a bundle, but there are also very affordable options on the market. The new Polycom 335 and the Cisco SPA504G are two moderately priced 'HD' phones that we've already reviewed. Today we're going to take a look at another one.
The 6730i (firmware v2.5.2.1010) is the new entry-level addition to Aastra's line of 67xi SIP phones, which range from the 6730i to the new 6739i executive class IP phone. Since Aastra released its own wideband audio technology, Aastra's 'Hi-Q', all models in the 67xi lineup allow users to experience wideband audio via the industry standard G.722 codec. The OnSIP team has already given a positive review to the 6757i, one of TMC's Tom Keating's favorites. In this review, we'll see if the same quality can be found in a device that's a fraction of the price of most VoIP phones on the market.
First Impressions
The Aastra 6730i is a lot like many of the Aastra phones we've seen. Like other Aastras, there are lots of dedicated hard keys, some of which are customizable. Others correspond to common call handing functions like 'hold', 'transfer', etc.
The phone has a very small 3-line display resting on top of a navigation pad. The directional buttons in this pad are the only case sensitive soft keys on the phone. Like all IP phones we've encountered, there is also a message waiting LED indicator.
One interesting thing you'll notice when you first take the phone out of the box is that there are two columns of four black buttons (with LED indicators) that appear as if they have no apparent function. Long blank strips separate these buttons. Dig around in the box a little further and you'll come across a sheet of tables that can be torn out. Some of these tables have one column labeled with the functions corresponding to the right column of buttons: 'save', 'delete', 'directory' and 'services'. Others are completely blank which leads us to believe that all of these buttons are customizable. These paper tear-outs can be hung in place so users have the appropriate labels for the black buttons. We're not entirely sure how you keep the labels in place or how to get it looking like the picture above (superglue?). Some of the plastic pieces do pop off so it probably has something to do with removing parts.
The single most attractive feature about this phone is probably its price point. If you're a savvy shopper, you can find an Aastra 6730i for almost half the price of the Polycom 335. The ~$70 price tag makes the Aasta 6730i the most affordable 'HD'/'Hi-Q' capable phone we know of at the time of this review. 
Phone Configuration
Aastra has a very good all purpose web interface for configuring their IP phones. Configuration instructions for Aastra phones can be found in the dedicated Aastra section of our knowledgebase. The steps are more or less the same across all models (click on Aastra 5xi). However, here are a few things to note because there may have been a few recent changes since we published our article on Aastra phone configuration (please bear with us while we update our knowledgebase articles). Instead of selecting 'Line 1', input your primary line information into 'Global SIP'. When we tested the phones with our OnSIP service, simply entering information into 'Line 1' led to unsuccessful phone registrations.
We also changed the number 1 preferred codec in 'global SIP' from 'basic' to 'G.722'. It would appear that the phone does not automatically recognize when the device on the other end of the line (a Polycom HD phone in this test instance) is also supporting G.722, so you'll have to make that change yourself if you want your calls in 'HD'. You can also select other codecs for the phone to use if G.722 is not available. Consult your provider for the codecs that they support.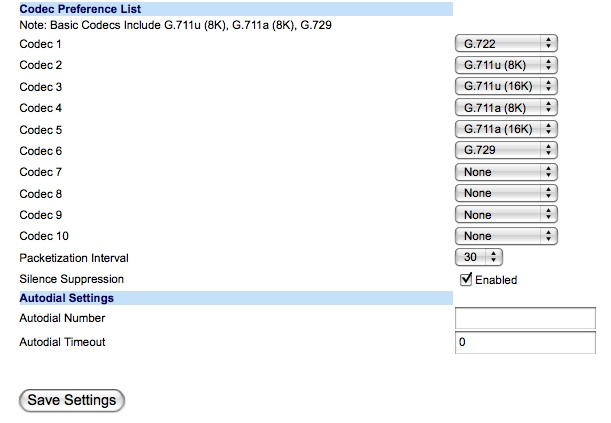 The nice thing about Aastras is that you can save your changes in the web interface without automatically triggering a two-minute reboot process that locks you out. Instead, you can make all the needed changes to the pages you want, save them all individually, and then use the web interface to trigger a phone restart that will take into account all your personalized settings. The entire restart process also only takes about 30 seconds.
The web interface can also be used to customize buttons and make firmware upgrades to the phone.
Junction Networks Interoperability Test
At Junction Networks, we put each of the phones we use through a multi-step interoperability test in which we put the phones through 30 test cases. An example of a test case would be the following:

"Test phone calls phone B 
B picks up
 B puts Test phone on hold
 B calls phone C
 C picks up
 B transfers test phone to C
Call must be transferred correctly to C. B must be released correctly after the transfer. When C picks up, audio must work in both ways between test phone and C. When test phone is on hold, there is no audio between it and phone B."
We are very happy to say that the Aastra 6730i passed each test.
Voice Quality
The voice quality on 'HD'/'Hi-Q' calls is excellent. We will say that there are noticeable call differences between the Aastra 6730i and the Polycom 550/650. The handset is a major contributing factor to the overall call quality, and its clear that Polycom invested much more in the handset on their 550s/650s than Aastra did on their 6730i. This is understandable as the Polycom 650 costs several times what the 6730i does. 'HD' Calls on the Polycom 550/650 can sound almost as if the person on the other end is talking directly into your ear. On the 6730i, it sounds as if they're at least a couple of feet away, like there is a very thin sheet between the people holding the conversation.
This is not to take anything away from Aastra. The enhanced audio performance is clearly noticeable and the voice clarity is indeed far superior to what you'd get on a regular VoIP or PSTN call. For a phone that can be found for less than $70, this is impressive.
Speakerphone
The Aastra 6730i features a full-duplex speakerphone that also benefits from 'Hi-Q'. With the proper volume settings, the speakerphone feature is very usable.
Ease of Use
For the most part, using the Aastra 6730i is very intuitive. Most of the basic call-handling functions that users need on a day-to-day basis such as hold, transfer, redial, and conference have dedicated hard keys. Also featured on the phone are one push buttons to your directory, recent callers list, and to 'services', which gives access to your directory and recent callers. This may seem redundant at first, but the actual 'directory' button is one of the eight programmable black buttons at the top of the phone, and can be changed to something else. Six of these keys are completely programmable ('save' and 'delete' appear to be locked). If you push down on one of the blank buttons and hold, then it lets you set up speed dial. The web interface is there for you if you want to get a little more advanced with customizing these buttons. For example, if you want to have more than 2 lines, you can set up the buttons to correspond to your new lines.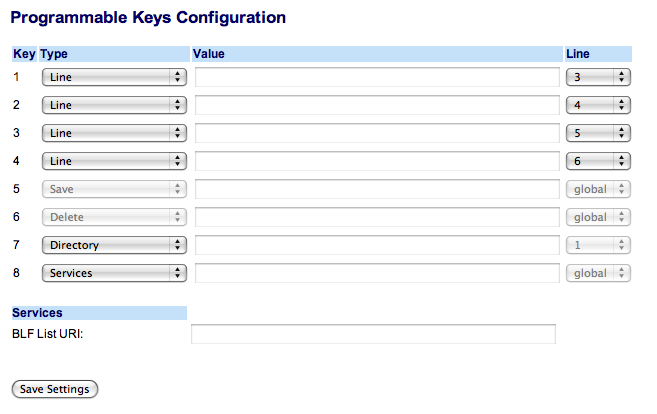 The 3-line LCD display on the phone is probably its weakest feature. It does not feature a backlight and it only displays one option at a time if you're going through a list. The phone does have XML browser capabilities but we can't really see anyone getting much enjoyment from using applications on this phone. If you're accustomed to having a big display, then using this phone might take some getting used to.
Final Thoughts
The Aastra 6730i is a very solid addition to the brand's lineup of IP phones. Although we didn't particularly enjoy using the LCD display screen, we understand that not every phone priced around 70 dollars can have giant backlit high-resolution displays. Aastra has always stressed customizability and the 6730i is no exception. Even with the paper labels, they pull it off pretty well. Finally, the Aastra 6730i is probably one of the most affordable IP phones on the market that support the standard G.722 codec which allows for 'HD'/'Hi-Q'/wideband calls. If affordability, customization and great call quality float your boat, then we recommend picking one up.
Updated May 2015
---
See our top business VoIP phone recommendations