Prerequisites
Aastra now allows public download of documentation and software at: http://www.aastra.com
Phone network configuration completed.
The following instructions assume your phone has successfully booted and completed network configuration including obtaining valid IP addresses for itself, an IP gateway and DNS servers either via DHCP, manual or other means (refer to your Aastra Administrator's Guide) and that your phone is running with factory defaults.
Phone is running firmware release 2.2.0 or better.
You can find the firmware version your phone is currently running by using the "Options" button on your phone and navigating to "Phone Status" -> "Firmware Info". If you are running a version prior to 2.2.0, please upgrade your phone's software before proceeding (refer to your Aastra Administrator's Guide).
Phone Configuration
Step 1: Gather information for each user.
Each user has a set of credentials which will be needed to configure each phone. For each phone that you are configuring, obtain the following:
"SIP Address" (Address of Record)
"SIP Password"
"Auth Username"
"Username"
"Domain"
"Outbound Proxy"
You can find this information in the user detail pages under the "Users" tab in the "Phone Configuration" section.

Step 2: Log into your Aastra phone through a web browser.
When your phone is powered on and connected to your LAN, use a browser to navigate to the IP address of your phone. You locate your phone's IP address by selecting "Options", then scroll to phone preferences and finally to IP&MAC addresses. The factory default administrative password for the phone is 'admin' and the factory default password is '22222'. Select "VoIP Account 1". For "Server is local", select "yes".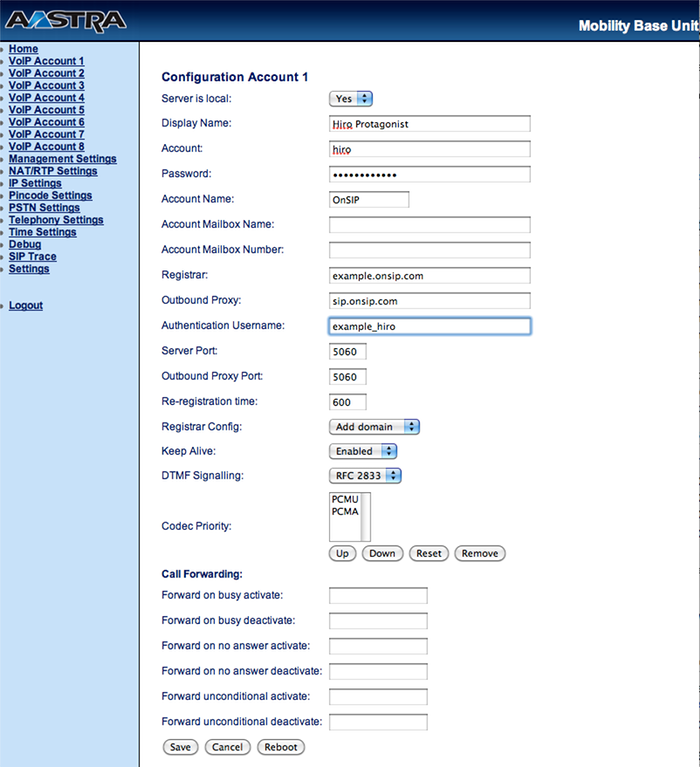 Step 3. Enter your user information from Step 1.
Configuration Account One
Server is Local > Set to "Yes"
Display Name > Whatever you would like others to see when you call them.
Account > "Username"
Password > "SIP Password"
Account Name > "OnSIP"
Registrar > "example.onsip.com"
Outbound Proxy > "sip.onsip.com"
Authentication Username > "Auth Username"
Click the "Save" button.
Step 4. Confirm that your phone is registered.
In the Admin Portal, click on the "Users" tab. You will see a green "online" notation next to each user with a registered phone. 
Troubleshooting
If you are experiencing trouble, double-check your settings as described above and be sure to verify that your password was entered correctly without any leading or trailing spaces. If you are still having problems with your phone configuration, please see our troubleshooting section for further help.
Review
We recently got our hands on the Aastra Mobility Base Unit (MBU) 400 (firmware MBU 400 v2.20), and a few of the Aastra 420d handsets that go along with it. The MBU 400 is a Digital Enhanced Cordless Telecommunications (DECT) solution designed especially for small businesses. If you or your employees ever need to be mobile while on the phone for whatever reason, then this might be what you're looking for; the Aastra MBU 400 lets you get up to 150 feet away from the gateway. Our office isn't 150 ft long but we did try conducting calls in the hallway outside, and everything seemed to work fine.
The Aastra MBU 400 Gateway supports 8 unique SIP registrations, one FXO analog port, and can be used with up to 8 of the Aastra 420d handsets, each with their own VoIP telephone number and extension. You can conduct 4 simultaneous calls, which is a nifty feature that most other cordless solutions don't have. The system also comes with a sizable set of other features like intercom, speakerphone, directory, transfer, hold, forwarding, DND, etc.
First Impressions
The Aastra 420d handsets are sleek. They're thin, black, and glossy with a nice colorful display that reminds us of the cell phones we used before everyone and their mother got a smartphone. The setup of the dial-pad, navigation buttons, and menus is also almost identical to that of older cellular phones. The buttons have a squishy feel to them and each time you press one, the phone makes a "keypad sound" that you can change.
While the Aastra MBU 400 does support 8 unique SIP registrations, it also supports an FXO port, which means that you can make calls using VoIP or your landline. This is a nice little addition for customers that have both VoIP accounts and a traditional POTS line in their home or business. The MBU automatically fails over to use FXO for outbound calling if the user's VoIP service goes down unexpectedly.
OnSIP Interoperability Test
At OnSIP, we put each of the phones we use through a multi-step interoperability test in which we put the phones through 30 test cases. An example of a test case would be the following:
Test phone calls phone B

B picks up

B puts Test phone on hold

B calls phone C

C picks up

B transfers test phone to C

Call must be transferred correctly to C. B must be released correctly after the transfer. When C picks up, audio must work in both ways between test phone and C. When test phone is on hold, there is no audio between it and phone B.
The Aastra MBU passed most of the test cases in our interoperability test. Since the 420d phones do not have multiple lines, we decided that some of the "setup and registration" test cases were irrelevant.
We did have problems getting the call forwarding to work. If you maneuver through the settings on the phone itself, you can easily find where to configure the call forwarding options under "telephony settings". However, it does not seem like you can actually configure settings through the phone since we were unable to select any of the three call forwarding options ("Busy", "No Answer", "Unconditionally"). The web interface can be used to set up call forwarding, but calls were not forwarded successfully after the phones were rebooted. It seems like the call forwarding function is broken at this time.
All tests were conducted on firmware version 2.20.
Voice Quality
The voice quality on the Aastra 420d is adequate. It's neither great nor terrible. In January of this year, a "bbarnett" posted a rather scathing review of the MBU 400 and the 420d handsets on Voip-info.org (the post itself is too opinionated to be a wiki page if you ask us). We didn't have as big of a problem with using the devices as "bbarnett" did, although we will acknowledge that the audio is a far cry from the HD voice you can get with other Aastra desk phone models.
"bbarnett" did mention that the speakerphone was very quiet, and we'll agree with him here. If there's a lot going on around or if there's even someone talking near you, then you probably won't catch everything the person on the other end is saying if you're using the speakerphone.
Ease of Use
The 420d handsets are very easy to use, and come with a nice set of features that complement a business environment. Features like 3-way conferencing and the intercom between handsets are some of the ones you might not find in other cordless solutions. Other phone features are easily accessible by using the soft-keys and the nice, backlit graphical display. For example, during a call the two soft keys allow you to mute or hold the call. Press "hold" and you get an "options" button that allows you to transfer the call or invite another person via intercom.
The center black button takes you to a main menu where you can check your call log (which holds the last 30 missed, outgoing, and incoming calls), see your contact list, get your messages (both landline and VoIP), change settings, and intercom with other handsets. The relatively large graphical display can fit up to 5 selections on the screen, and the navigation wheel is intuitive enough that finding what you need in the phone never seems like too much of a hassle.
Final Thoughts
The Aastra MBU 400 is a solid choice for businesses looking for a DECT solution. With the addition of landline calling via the FXO analog port, this Aastra model actually has a leg up in terms of functionality over some of its competition. It's clear from the belt clips and headset jacks that the handsets are designed for mobility. They look, act, and feel like cellphones, which may or may not be what you're looking for. While we appreciate the design, it would be nice to see a mobile solution that incorporates some of the hard dedicated buttons that make business desk phones so easy to use.
---
See our top business VoIP phone recommendations