Prerequisites
Download the Linksys SPA2102 quick start guide from Cisco directly:
Cisco SPA2102 Phone Adapter with Router Quick Start Guide.
ATA Device network configuration completed.
The following instructions assume the device has successfully booted and completed network configuration including obtaining valid IP addresses for itself, an IP gateway and DNS servers either via DHCP, manual or other means (refer to the Linksys SPA2102 Quickstart Guide) and that your phone is running with factory defaults.
Always safeguard your SIP Account information and please be sure your configured device is not publicly accessible via the Internet.
At the time of publication, the Linksys SPA2102 is currently running Software Version: 5.2.12 
Phone Configuration
Step 1: Gather information for each user.
Each user has a set of credentials which will be needed to configure each phone. For each phone that you are configuring, obtain the following:
"SIP Address" (Address of Record)
"SIP Password"
"Auth Username"
"Username"
"Domain
"Outbound Proxy
You can find this information in the user detail pages under the "Users" tab in the "Phone Configuration" section.

Step 2: Navigate to the configuration page.
The default address for the configuration page is 192.168.0.1, use that ip address in your favorite browser.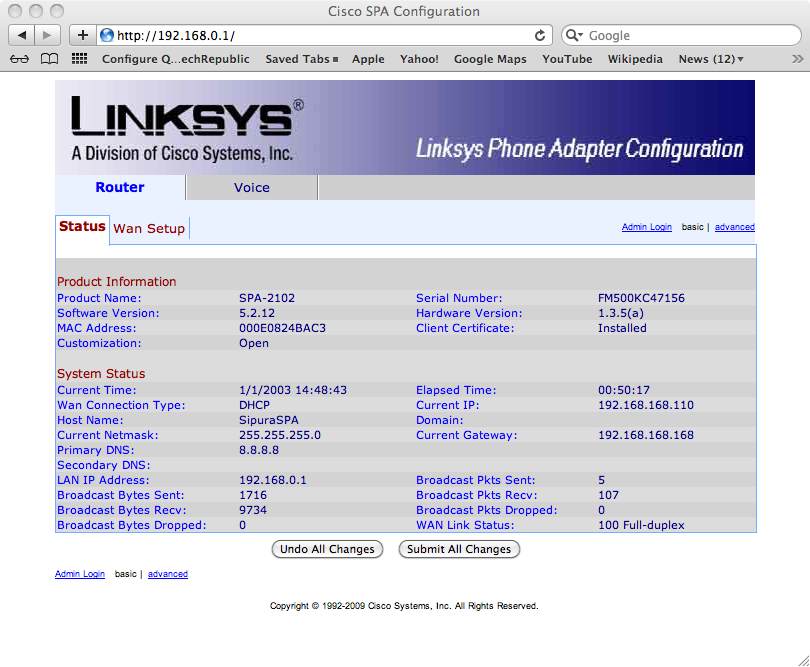 Step 2.1 > Click on the "Voice" tab
Step 2.2 > Click on "Admin" login
Step 2.3 > Click on "Advanced"
Step 2.4 > Select "Line 1"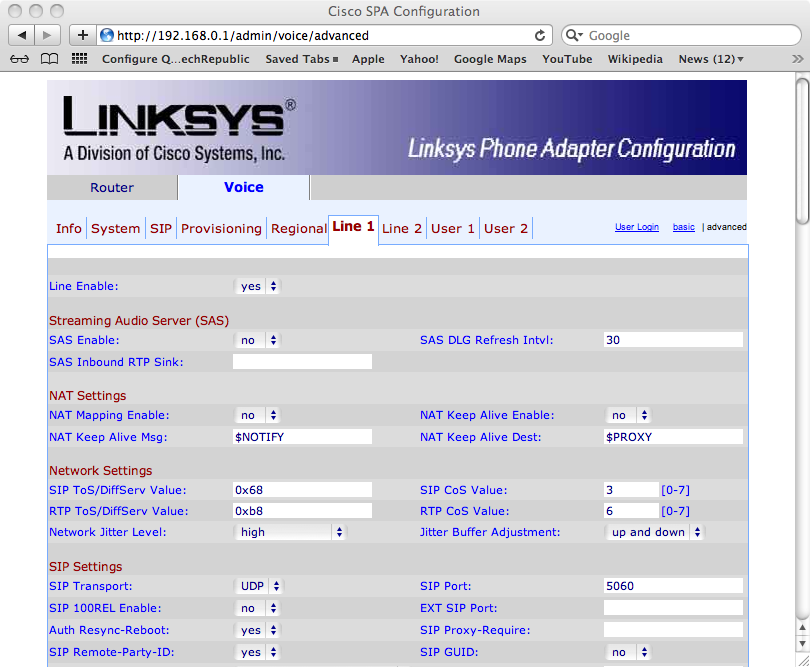 Step 2.5 > Scroll down to the "Proxy & Registration" section
Step 3: Use the following guide in completing the "Proxy and Registration" section as well as the "Subscriber Information".
Proxy and Registration
Proxy: example.onsip.com (Proxy/Domain)
Outbound Proxy: sip.onsip.com
Use Outbound Proxy: yes
Use DNS SRV: For SRV registrations, set this to "yes".
Subscriber Information
Display Name: 7041 (extension or name, if supported by phone)
User ID: hiro (Username)
Password: VPG3hockrifv(SIP Password)
Use Auth ID: Yes
Auth ID: example_hiro (Auth Username)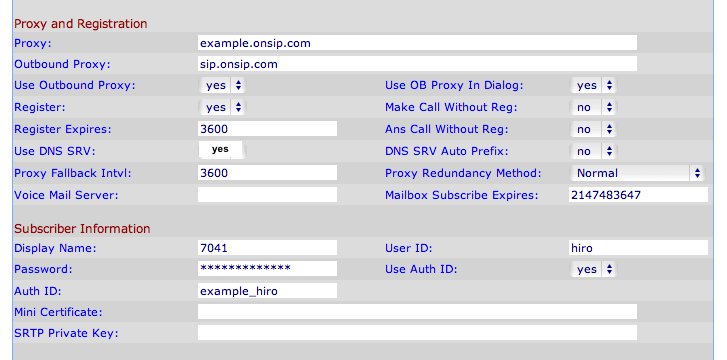 Once complete click on the "Submit All Changes" button at the bottom of the page.
Step 4: Verify registration.
Click on the "Info" tab at the top.
Scroll down to "Line 1 Status" section.
Verify "Registration State:" field displays "Registered"
You may need to refresh the screen once or twice in order to get accurate information.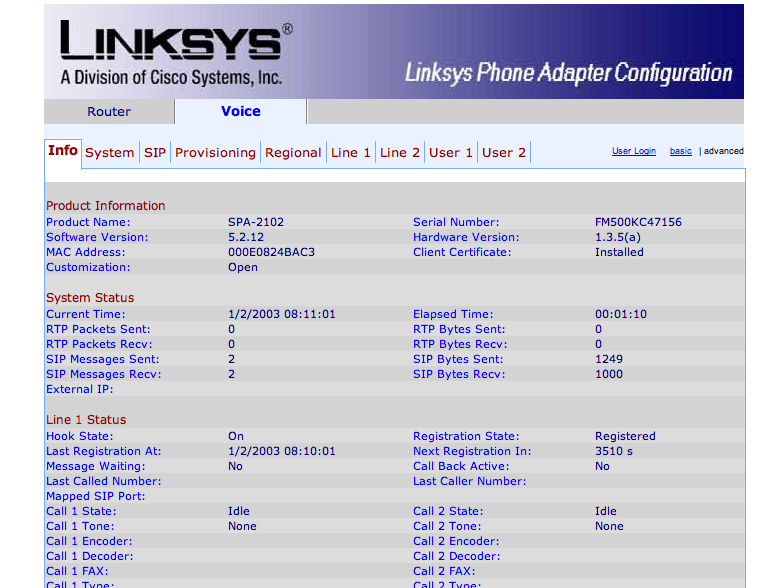 Troubleshooting
If you are experiencing trouble, double-check your settings as described above and be sure to verify that your password was entered correctly without any leading or trailing spaces. If you are still having problems with your phone configuration, please see our troubleshooting section for further help.
NOTE: The information provided above is from another OnSIP customer offering these settings for other customers with a similar device. OnSIP does not sell nor monitor equipment and/or it's firmware updates/etc. The settings of routers can change and are out of the control of OnSIP. For best results, reach out to the manufacturer directly.
---
See our top business VoIP phone recommendations