Updated May 2015
Prerequisites
Phone network configuration completed. The following instructions assume your phone has successfully booted and completed network configuration including obtaining valid IP addresses for itself, an IP gateway and DNS servers either via DHCP, manual or other means and that your phone is running with factory defaults.
Phone is running the latest firmware Gather the IP of your base station going to settings / base / local network. The default PIN is '0000'. Then Select Base / Software
Troubleshooting
If you are experiencing trouble, double-check your settings as described above and be sure to verify that your password was entered correctly without any leading or trailing spaces. If you are still having problems with your phone configuration, please see our troubleshooting section for further help.
OnSIP Review
Although we don't necessarily always recommend it, more of our customers are beginning to incorporate SIP/DECT cordless devices into their hardware lineup. For us, this is mostly unfamiliar territory. I, like many of my colleagues here, rely on my desk phone for almost all of my business communications, but I can certainly understand the benefit of having a SIP/DECT cordless device for a home office.
Why don't we recommend SIP/DECT phones as much as we recommend desk phones? The answer is pretty simple. Many SIP/DECT solutions and other wireless VoIP user agents released in the past few years were not designed for the workplace. In a lot of cases, these products come from international manufacturers in countries where there is already an attractive market for consumer VoIP products. These companies will often try to market these consumer products as business solutions in the US because the consumer VoIP market here isn't quite up to speed. Usually, a lot gets lost in the translation, so to speak. This isn't to say that SIP/DECT products are terrible for every business environment or even that SIP/DECT phones can't do everything your desk phone can. We actually have quite a few customers using Snom m3s and Aastra MBUs.
Seeing as how our users are 'early adopters', we're going to try and put ourselves in the shoes of a customer, suck it up, and start looking into some of these devices. We'll start with this review.
The Gigaset S675 is a relatively affordable DECT or Digitally Enhanced Cordless Telecommunications VoIP solution from Siemens. For around $130, the package comes with the base station, a rather boring looking black box with a glowing blue button, and one S67H handset. Savvy shoppers can find additional S67H handsets for around $70 (hint: Amazon), but you'll be happy to know that a wide range of Gigaset handsets can be registered to the S675 base station. VoIP blogger Michael Graves reports having used the A58H, C59H, S67H, SL78H, and S79H handsets successfully with both the S675 and the entry-level model, the A580. We have also read reports that it is possible to register DECT handsets from other manufacturers, but that has yet to be tested by our team.
First Impressions
The first thing that got us excited about the S675 was the inclusion of high definition voice, or what Gigaset calls HDSP (High Definition Sound Performance). Other DECT solutions we've tested and used in the past like the Snom m3 and the Aastra MBU did not offer wideband audio.
The S675 is a 'dual-mode' phone, meaning that you can switch between IP calls and fixed line calls (there is a regular phone jack in the back of the base unit as well as an Ethernet jack on the side). Users can switch between IP and fixed line as their default calling method, as well as set fixed-line phoning as the failover in case they lose their Internet. The base unit allows up to 3 simultaneous calls, 2 IP and 1 fixed-line.
Like many other DECT solutions out there, the included handset is pretty sleek. It has the same silver and black color scheme that is so common among IP phones, and a glossy sheen on the top half. The S67H handset includes a large backlit color display along with two context sensitive keys, one of which allows you to set a shortcut to the features you use the most often. One thing we noticed right off the bat was that the buttons on the handset are not as responsive as we would like them to be. There is sometimes a minimal but noticeable delay between the time you press a button and the time the desired response registers on the screen. It's not a huge issue, but sometimes the phone will completely miss the first number you press if the phone is in an idle state.
The handset comes with a handy belt clip and a headset jack for a completely hands-off calling experience. It is worth noting that the S67H stands up-right on its own, so you can set it on your desk facing you and have a conversation over the speakerphone.
Other features worth mentioning are the S675's integrated answering machine, which is advertised to hold up to 30 minutes of messages and recorded calls, and its music on hold, which triggers when you try to make a second simultaneous call on one handset.
Finally, Gigaset phones supposedly consume less energy than conventional cordless phones through a user activated 'Eco' mode. Gigaset ECO DECT models like the S675 variably reduce the transmitting power between the handsets and the base station depending on the distance between the two. Make a call from right next to base station and the transmitting power will be minimal.
Phone Configuration
The first thing you'll want to do when you take the S675 (firmware v 02223 / 047.00) out of the box is register your handset to the base station. This should automatically happen, but if it doesn't you can always trigger this manually by clicking on the 'menu' options key (the right context sensitive button on the default screen or the right direction on the navigation square) > settings > handset > register H/set. You can register each handset to multiple base stations, which is pretty neat.
To configure your phone and update your firmware (IMPORTANT), you'll need to find the IP address of the base station. This is easily done by either pushing the blue page button on your base station (the IP address will flash on your phone's display) or going into settings > base > local network. If you are asked for a PIN number, the default is '0000'. You can also select base > software update to upgrade firmware directly from your phone.
Enter the IP address into your web browser and you are brought to the web interface. The system PIN is once again '0000'.
To set up your OnSIP account (and an account from any other provider), go into 'settings' > 'telephony' > 'connections'. You'll notice that you can register up to 6 handsets to each base station, and that there is already a SIP network, Gigaset.net, that is on by default. We disabled this network because we would not be using it for our tests, but it's a great way to get started with IP calling without knowing anything about SIP providers.
Go to your first IP connection, IP1, and click edit. We'll enter in the credentials for one of our example accounts, Hiro Protagonist. Here are his credentials:

Here is what the '1. IP Connection' screen should look like for hiro: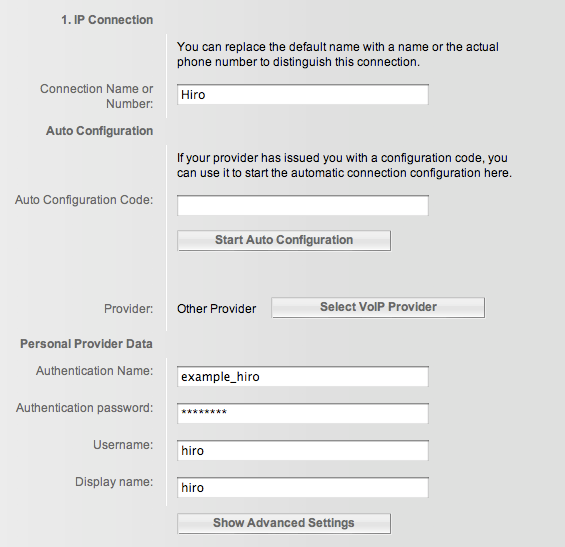 Click on 'Advanced Settings' to finish inputting the user/provider credentials: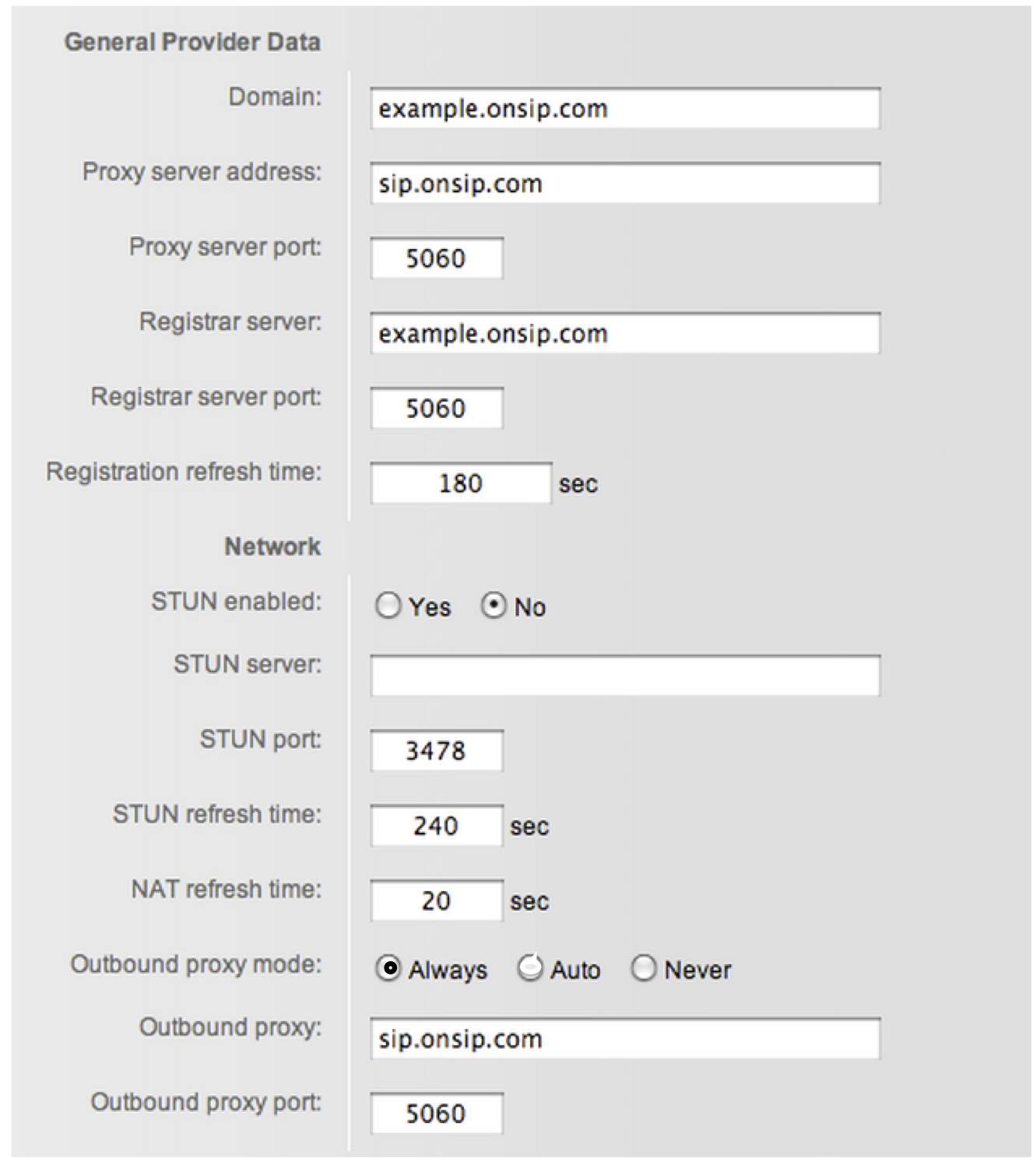 Press 'set' at the bottom of the page. Your handset will get those settings almost immediately. Next, in the web browser, go back to your connections menu, and make sure that you check the 'Active' box. Repeat the process for however many handsets you want to register. Sometimes the status message may say that the registration failed or something to that effect. Don't panic. We got a similar message but it still worked. Reloading the page a few times should give you a 'registered' status.
It might be useful to rename your handsets. You can do this by clicking on the 'Handsets' menu item. For information about number assignments and dialing plans, continue on to the 'Ease of Use' section of this review.
OnSIP Interoperability Test
All Testing of the S675 was done on firmware version 022230000000 / 047.00
At OnSIP, we put each of the phones we use through a multi-step interoperability test in which we put the phones through 30 test cases. An example of a test case would be the following:
Test phone calls phone B

B picks up

B puts Test phone on hold

B calls phone C

C picks up

B transfers test phone to C

Call must be transferred correctly to C. B must be released correctly after the transfer. When C picks up, audio must work in both ways between test phone and C. When test phone is on hold, there is no audio between it and phone B.
The S675 passed most of our tests with a few exceptions that we will mention here. On the S67H, there is no obvious 'hold' functionality. To inadvertently put the caller on the other end on hold, you have to try and start another simultaneous call, which will trigger the call waiting and music on hold function (this can be turned off). You can always also mute yourself, which is one of the options that come up on your display screen mid-call.
There also doesn't seem to be an obvious way to do blind transfers. We will do more digging as some of the firmware updates do in fact mention unattended transfers being implemented.
The S675 does make attended transfers and conferencing pretty easy. We were easily able to set up two simultaneous external calls (by external in this example, we mean with phones not connected to the S675 base station –A Polycom 550, and an Aastra 6730i), and click on the 'options' key to initiate 3 way conferences and attended transfers.
That being said, trying to do attended transfers to a phone on the PSTN (a colleague's iPhone) did not go over as well. In our test case, we first called our Polycom 550, then called the iPhone, and finally tried to connect the two. The S67H still thought it was in use even after the 'Call transferred' message displayed on the screen. After a few seconds, the handset would ring and try to re-initiate the connection with the Polycom. Meanwhile, the iPhone still thought it was on a call even though there was no one on the other end. We will dig into this issue more and try to get to the bottom of what happened.
Voice Quality
On wideband calls, the sound quality delivered by our handsets is very good. Is the call quality 'unrivaled' as Gigaset would have you believe? Not quite. Our Polycoms still beat out the S67H by a bit in terms of clarity and sheer 'you're sitting right across from me' effect, but it is certainly a step up from what you get on most DECT solutions. VoIP blogger Michael Graves actually has a few voice recordings from his A580, which is the entry-level DECT solution from Gigaset that also supports wideband calling. These recordings (which include normal call, HD call, and HD speakerphone) can be found on page 4 of his review. The quality comparison can be applied to the S675.
Note: There does appear to be a bug where G.722 is excluded in transfers, meaning you will have to directly dial or be directly dialed to actually get hi-def audio.
Speakerphone
The speakerphone sound quality on wideband calls is actually very impressive. It is still useable on non-HD calls, but the wideband version is better by a huge margin.
Ease of Use
The S675 allows plenty of customization when it comes to dealing with different SIP accounts and even different SIP providers. In 'number assignment' under 'telephony' in the web interface, you can set the default linetype for outgoing calls, and set rules for which of your accounts and providers you want to use for your outgoing and incoming calls for each registered device. Our setup is pretty simple at the moment: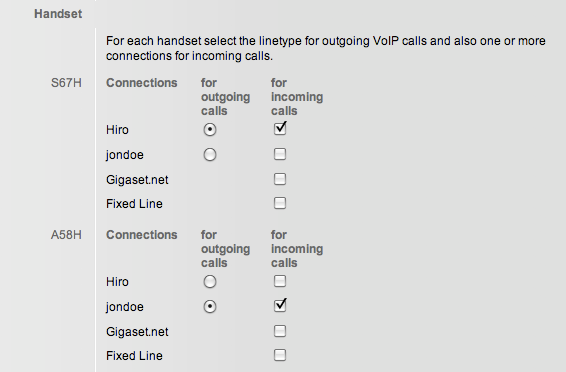 The S675 includes dialing plans, which is great if you are a customer of multiple SIP providers. This dialing plan feature allows you to set rules that correspond telephone numbers and area codes with the accounts from your different SIP providers, which could potentially save you a lot of money under the right circumstances. You also use the dialing plan feature to block numbers.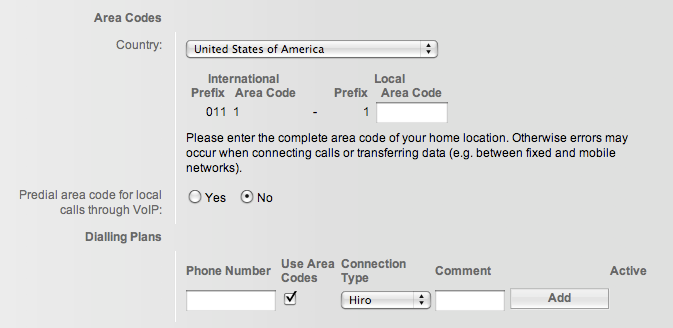 Please do keep in mind that we have not thoroughly tested the settings under 'number assignments' and 'dialing plans' ourselves as most of our tests were conducted using a few OnSIP accounts and the PSTN.
In true consumer/home market fashion, the S675 has a lot of features you will probably never use for business. These include screensavers, a library of cartoonish caller icons, a library of sounds, an alarm clock, a calendar, messaging center (email and IM), and an 'information center' complete with news, encyclopedia, translator, etc. You can even set your screensaver to be an RSS of Entertainment Weekly headlines. There are additional features like a room monitor, data transfer, and something to keep track of your missed appointments. We're not particularly interested in any of these features so we will let you do the digging yourself.
The large backlit color display makes navigating the menus extremely easy (6 options fit on the screen at once) even with some slow menus and button response delays.
Since we weren't connecting our S675 to a 'fixed line', we went ahead and changed the default linetype for outgoing calls to IP. Otherwise you have to hold down on the green dial button for a few seconds to make an IP call, which can get annoying. Finally, although Gigaset advertises that the S675 can hold up to 30 minutes of messages and recorded calls, the actual number is closer to 20.
Final Thoughts
The Siemens Gigaset S675 is a pretty solid DECT solution. Even though it may have been designed for the consumer market, we can see it being a valuable addition to some business telephone systems, hopefully as an accompaniment to desk phones. Overall the system is a little slim on business features, but with HD voice support, dialing plans, and an affordable price tag, the S675 might just be what you're looking for if you're more concerned with making and receiving calls than getting fancy.
---
See our top business VoIP phone recommendations