Note: The OnSIP Cisco & Linksys Boot Server serves the latest tested and verified firmware version and user settings for the following models.
Cisco models: SPA112, SPA303, SPA501G**, SPA502G**, SPA504G**, SPA508G**, SPA509G**, SPA514G, SPA525G, SPA525G2, SPA500S, SPA500DS
Note: 50x phones do NOT work with Music on Hold.
Linksys models: SPA901, SPA921, SPA922, SPA941, SPA942, SPA962, SPA2102, SPA3102, SPA8000, SPA8800
Important Notes
Sidecars: SPA500S and SPA500DS sidecars will work with SPA phones but you will need to enable Busy Lamp Field (BLF) feature on your account to monitor availability. When you configure your SPA device, you will be able to select either SPA500S or SPA500DS (as applicable) sidecar under Expansion Module option at the bottom of the list. This will allow you to assign BLF lines. One limitation of SPA500DS is that the lines will show the full SIP address of the user as opposed to the User name and/or extension. There is no such limitation for SPA500S sidecar; one simply writes the name of the User on the slip of paper.
You should not use the boot server if you have multiple VoIP providers configured on your phone, as it provides a minimal configuration for OnSIP service that may cause problems for your other providers.
For security purposes, do NOT put phones on static IP addresses directly on the Internet. If there is no other option, you must at least disable port 80 (WWW) inbound to any phone device. If this precaution is not taken, OnSIP is not liable for any charges you may incur due to access to the phones. 
Reset to Defaults
Resetting the IP Phone
On the SPA itself, press the "Setup" button. (It looks like a piece of paper with the corner folded over.)
Go to "Factory Reset" (14) using the "Navigation" button. (The up/down/right/left button wheel on the phone.)
Press the "OK" soft key afterwards. SPA will reboot and will be back to its default settings.
Note: If you choose factory reset, you will return the phone to the original factory settings and will erase all current settings, including the directory and call logs. 
Step 1: Find the Mac Address of your phone
On Cisco phones, this is sometimes called the Mac ID. You should be able to find it on the back of your phone.
Step 2: Add the Mac address of your phone in the OnSIP admin portal
See here.
Step 3: Add http://boot.onsip.com/ to your Cisco or Linksys phone
Find the IP address of your phone ("Menu" (the menu button that looks like folded over piece of paper) >> "Status" >> "Network Status"), and enter the IP address into your web browser. The IP address should be something like 192.168.1.105, or 10.10.0.24. You would enter: http://192.168.1.105 in the web browser.
For a SPA112 connected to a phone entering **** on the phone will get you the IP address of the SPA112.
There are two skins for the Cisco web provisioning tool that we know of.
Web provisioning skin 1 (Click on image to expand):

Web provisioning skin 2 (Click on image to expand):

Click on "Admin", then "Advanced" in the upper right hand corner of your screen. You should see many more tabs available to you.
Web provisioning skin 1 (Click on image to expand):

Web provisioning skin 2 (Click on image to expand):
Click on the "Provisioning" tab.
Set "Profile Rule" to:

http://boot.onsip.com/

Make sure you have that "/" at the end of the line. (That symbol is the forward slash. It's the symbol below the question mark on the keyboard.)
Web provisioning skin 1 (Click on image to expand):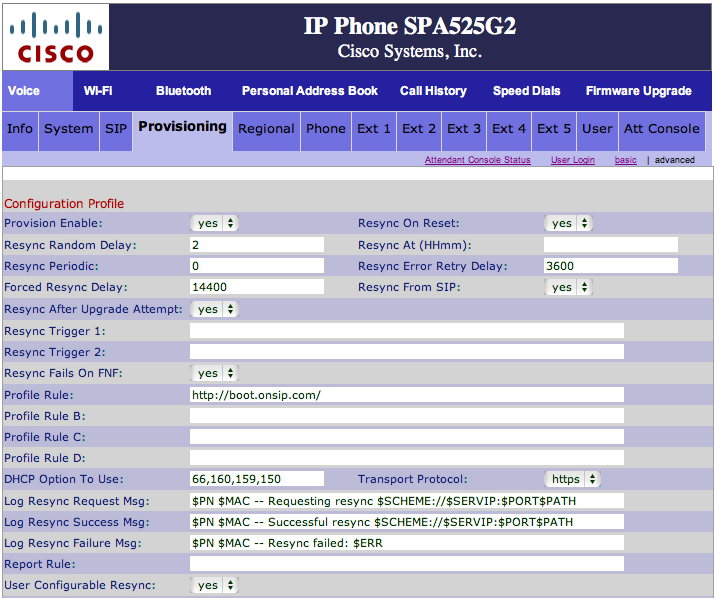 Web provisioning skin 2 (Click on image to expand):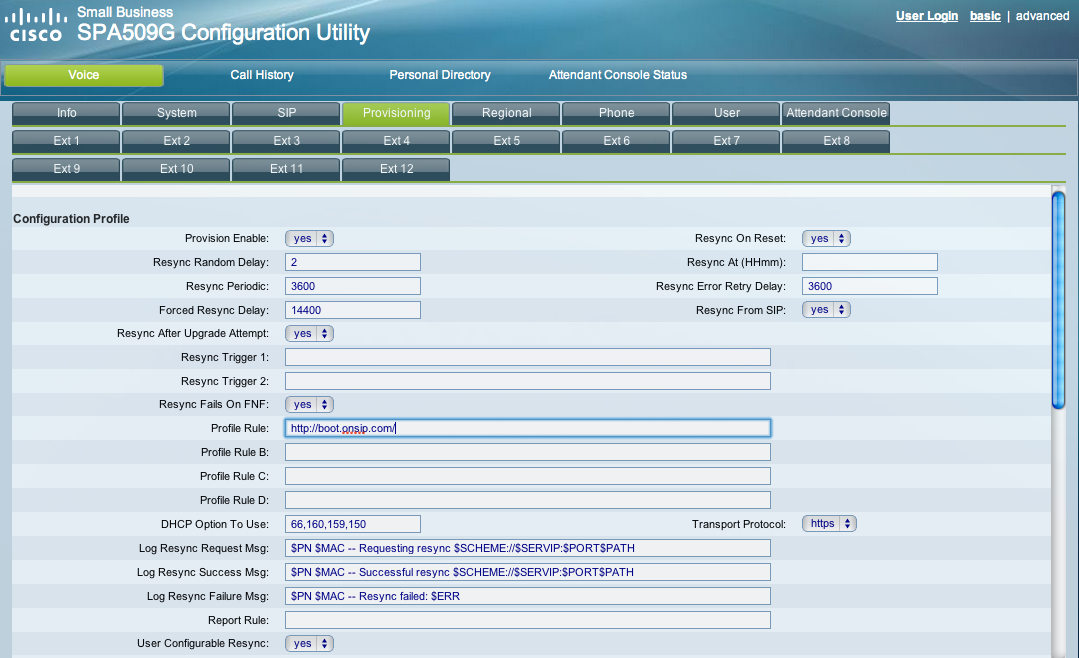 "Submit all Changes" to save your settings and reboot your phone.
Your phone should boot up, and then apply your configuration settings. This may take 10 or more minutes. We found that in some cases, we needed to do a power cycle (unplug and plug your phone back in) after the first reboot. 
---
See our top business VoIP phone recommendations for 2017