Review
The FLX2 (firmware 2.0.12) VoIP is a new take on the business conference phone. It deconstructs what can often be a bulky device, splitting it into smaller, mostly wireless components.
The company behind the FLX2 VoIP, Revolabs Inc, is an expert in voice amplification and wireless microphones, but until recently, had little (if any) experience making conference phones for small and mid-sized conference rooms. In fact, as far as I know the FLX is their very first conference phone. I spoke briefly with Senior Product Manager Holger Stoltze about why the company decided to create a new product line catering to this market.
"Our products integrate with enterprise conferencing equipment in large boardrooms and conference rooms to take audio and video conferencing to the next level. In this enterprise space, we're talking about equipment costs in the thousands to tens of thousands," he said, "But on our visits with clients, we realized that we were passing dozens if not hundreds of small to mid-sized meeting rooms at those same organizations with poor conferencing equipment. Equipment that didn't deliver the quality or flexibility they were used to getting in their larger meetings. That's what drove us to create the FLX."
Out of the box, the FLX2 VoIP package comes with a base station, speaker, dialer, two microphones, charger base, AC adapter, and an RJ45 Ethernet cable.
The base station links wirelessly with all the other major components of the system and is powered using Power over Ethernet (PoE). A power injector can be purchased separately.
The dialer features a high-resolution backlit LCD, and doubles as a separate phone. It comes with the standard keys you'd expect to find on a VoIP handset: numpad, call & hang up, 2 case sensitive keys to interact with options presented on the display, and a directional pad to adjust volume and navigate through onscreen menus. Call handling options can be found in the onscreen LCD menus.
The largest piece of the FLX2 VoIP package is the speaker. It's more or less a cylinder wrapped in easy-to-grip rubber. The top face of the cylinder is coated in a foam-like plastic material and encircled by tiny LED lights. Above this, a silver piece of plastic shaped like the bottom half of a spinning top juts out. I'm no expert in hardware design but I would imagine that this piece of plastic serves two purposes. One, you have another way to grip the speaker easily, and two, it probably helps to distribute sound more effectively.
There are two types of microphones, though they share more similarities than differences. Both fit in the palm of your hand, both have a mute button & a multi-colored LED to indicate state, and both have a grille made of the same foam-like plastic material we found on the speaker. The wearable microphone is the smaller of the two and comes with a clip on the back. The omni-directional mic comes with plastic grips so that it stays put on a surface. We got one of each for testing, but it looks like online retailers will allow you to choose the microphones that come with your system.
The charging base fits all the pieces, and when it's all put together, what you get is a very impressive looking conferencing system. There's certainly no doubt that the FLX2 VoIP is a conversation starter.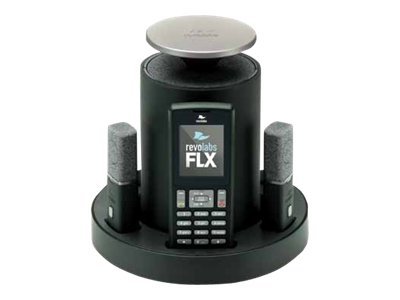 Configuration
The following step-by-step walkthrough will cover setting up the FLX2 VoIP with an OnSIP account. We're assuming that your conference phone has successfully booted up and completed network configuration. This includes obtaining a valid IP address, an IP Gateway and DNS servers either via DHCP, manual or other means. By default, this phone is set to DHCP. We are also assuming that your device is running with factory defaults with this firmware version.
You will need your OnSIP user credentials. You can find this information in the user detail pages under the User tab in the Phone Configuration section. The information you will need is as follows:
After you've plugged your base station into your LAN, and charged up your dialer, you will need to find the IP address of the phone. The easiest way to do this is to use your dialer. Hit the 'Menu' button on your onscreen menu. You will see 9 options represented by icons. Select the icon in the middle, 'System Info', and then select the top option, 'About System', on the next screen to get your IP address.
Type this IP address into your web browser to access Revolabs' web config tool. You will need to enter the default password, '7386'. Select 'Administrator' in the top right-hand corner of your screen.
Next, you'll see an 'Administrator Menu' pop up on the left hand side of your screen. Click on 'SIP Registration', and enter in your user's SIP credentials as follows.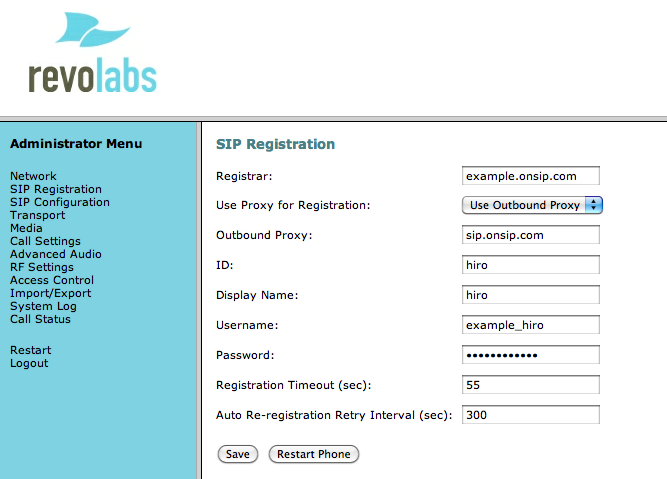 Registrar > Proxy / Domain
Use Proxy for Registration > Choose 'Use Outbound Proxy'
Outbound Proxy > sip.onsip.com
ID > Username
Display Name > Your Choice
Username > Auth Username
Password > SIP Password

*** Note: If you are having an issue with inbound and outbound calls not connecting even though the device is registered, modify the ID to User's full SIP Address.
Hit 'Save', and restart your phone via the web config tool for your changes to take effect. Your dialer will display a message that says its connection to the base was lost for a few seconds, accompanied by 5 quick notes. Don't panic. You should immediately hear the system restart from the main speaker; it takes about 30 seconds or less for the system to reboot. Overall, the configuration process is very straightforward.
OnSIP Tests
At OnSIP, we put each of the phones we use through a multi-step interoperability test in which we apply ~30 test cases. An example of a test case would be the following:
Test phone calls phone B
B picks up
B puts Test phone on hold
B calls phone C
C picks up
B transfers test phone to C


Call must be transferred correctly to C. B must be released correctly after the transfer. When C picks up, audio must work in both ways between test phone and C. When test phone is on hold, there is no audio between it and phone B.
The FLX2 VoIP passed all relevant tests. Irrelevant tests included use cases requiring simultaneous registrations. The FLX2 VoIP currently supports one SIP registration. This conference phone also does not support blind transfers. It does, however, perform attended transfers just fine.
Voice Quality
The FLX2 VoIP does not disappoint when it comes to call quality. We were actually a bit surprised that calls would sound as good as they did coming out of a phone with such an unorthodox design.
In conferences calls using HD Voice (G.722 wideband codec), calls were nearly as clear and crisp as they are on the Polycom Soundstation IP 7000 we normally use in our mid-sized conference room. Other participants in conferences where we used this phone assumed we were still using our Polycom, which is a very good sign when trying to gauge the audio quality of a new device. Here is a side-by-side comparison of two calls, one on the Polycom Soundstation 7000 and one on the Revolabs FLX2 VoIP.
Polycom Soundstation IP 7000 by junctionnetworks
Revolabs FLX2 VOIP Conference Phone by junctionnetworks
We did notice that the Revolabs FLX2 VoIP is a little worse at eliminating background noise. On the Polycom, it can literally be entirely silent if no one is talking, which may or may not be a good thing, as that will sometimes make callers think they're alone or wonder if all other parties have muted their phones. With the Revolabs FLX, there was always a slightly noticeable level of ambient noise, at least when we ran our tests from our conference room. Sometimes we really had to listen for it, but it was there.
There were also a few instances when we experienced issues with echo cancellation, which is something we've never had a problem with on the Polycom. I'd probably wager that this has something to do with placing the microphones too close to the speaker. These instances were few and far in between.
Usage
We asked ourselves the question, 'Why buy this phone?' Sure, the FLX2 VoIP sounds great and is neat to look at, but why choose this over a Polycom Soundstation?
Honestly, it really depends on how you hold your conference calls. There's no doubt that the FLX2 VoIP offers more flexibility and freedom. Position your omni-directional microphones near the people who are speaking, or if you have a person leading the call on your end, give him/her the wearable microphone and they can walk about the room as they please. I'll give you an example of when OnSIP might prefer the FLX2 VoIP to competing products.
Every week at OnSIP, we hold a company wide conference call where we catch up on recent events. In our NYC office where the vast majority of our employees work out of, we crowd around a conference table in our mid-sized meeting room.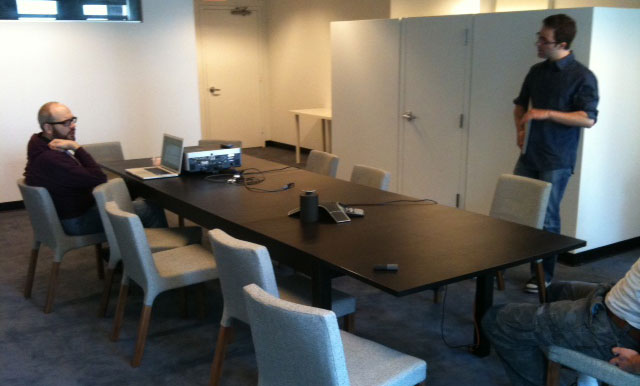 Notice that there are only 12 chairs around this table. If we seat 12 people in those chairs, they're going to be elbow to elbow. I should also note that we have more than 20 people working out of our NYC office. Notice a problem here? Traditional high end conference phones like Soundstations are great, but they're not so great when 1) the speaker is too far away or when 2) the speaker is sitting behind someone blocking his/her voice. You're bound to get someone on the other end of the call who can't hear him/her clearly if you have a combination of 1) and 2).
Before the FLX2 VoIP, there were 3 things we could do. We could buy expansion microphones for our Polycom Soundstation. The Soundstation IP 7000 we use is not compatible with wireless expansion mics according to Polycom's website so we're limited to their wired options.
Second, we could try and squeeze everyone around the table, which puts our employees uncomfortably close to one another. That's always fun.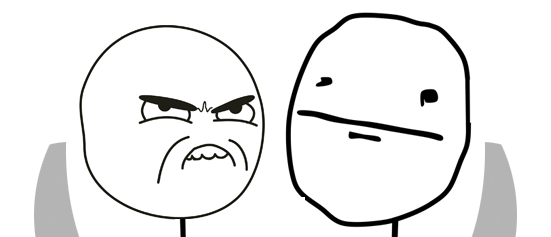 The third option, which is what we have been doing, is make the employees sitting in the 'outer ring' scoot closer when it's their time to talk. People sitting at the table can move to make room for them, but what usually happens is that the speaker stands up and talks/yells over a person lucky enough to have secured a seat at the conference table. Again, not ideal.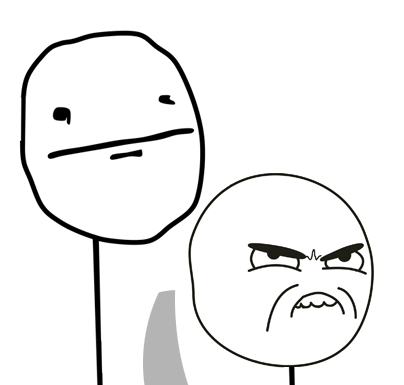 Keep in mind that we already have a meeting room that's more or less ideal for holding conference calls. For instance, we don't an unusual room layout and we don't have a U-shaped conference table. I would imagine that the FLX2 VoIP would make even more sense under those circumstances.
Let's actually go over using the FLX2 VoIP. Luckily, it's all pretty simple. As I've already stated, the dialer/remote control can act as a separate phone handset. If the speaker and microphones are in the charging base, any call you make will just be on the dialer.
The home screen of the dialer contains some standard info: the display name of your SIP account, the time, date, your battery charge level, and the state of your two microphones (grey means not being used, green means ready, and red means muted). In addition to the two context sensitive soft keys used to interact with on screen menu options, the dialer also has a directional numpad used to navigate those menus. On the home screen, the up and down arrows control your speaker volume. It goes from 1 to 16, 16 being more than loud enough for any small to mid-sized meeting room. The left arrow is a shortcut to your device status, which you can use to check how much battery is left on your speaker and microphones. The right arrow simply takes you to the main menu. Finally, the Enter button acts as a shortcut to your contacts list from the home screen.
When you press the main menu button, you'll see a 3 by 3 grid of icons, some of which lead to options we've already covered. They are: Recent calls, Contacts, Audio Controls, Device Status, System Info, Bluetooth, Home, Call, and Setup. As far as using the onscreen menus goes, the high resolution backlit LCD fits up to 6 list item menu options, making it relatively easy to get where you need to be.
During a call, you'll notice that there are two phone icons, representing the two simultaneous calls that the FLX2 VoIP allows you. To switch from one line to the next, simply use the left or right arrow key. If you have two active simultaneous calls, you'll see the options to swap between calls or create a conference. During a phone call, the only apparent option from the dialer screen is a mute button, but if you click on the Enter hard key, you'll see the other call handling options available to you: Hold, Conference, and Transfer. Hitting the conference button will give you three options. You can either dial a new number to invite to a conference, choose from your contacts list, or pick someone from your recent calls. Hitting the transfer button brings up the dialer screen with the message 'From [The party you're currently on a call with]'. I'm not quite sure what that means. Enter in a number, hit dial, and wait for the third party to answer. Then hit the transfer key on your screen. Don't hit the transfer key before the third party picks up, as that may lead to unexpected behavior.
I will note that though they get the job done, the keys on the dialer are quite tiny. They are also of the soft, squishy sort which means they're not particularly satisfying to use, but I suppose that's more of a personal preference. If you don't want to control your conference phone using what's essentially a small remote, then you should probably go the more traditional route.
That about covers the bases so far. We realize that there is still a lot that we haven't covered yet like the FLX2 VoIP's Bluetooth capabilities, or possible integrations with other communications systems i.e. video conferencing. Take this as a very basic overview of this device. We'll periodically update this review as we do more with this phone.
---
See our top business VoIP phone recommendations for 2017