Created: September 2016
Last Edited: July 2018
This phone is not available on our boot server. It only works in conjunction with a Polycom VVX 3xx, 4xx, 5xx or 6xx phone. It is not a stand alone device.
Click HERE for our phone review
Step 1: Connect Polycom VVX D60 Base Station to Network
The physical setup is quick and simple. You'll want to connect the D60 base station to the network as outlined in the User Guide, and log into the web interface for your host VVX phone.
(High Level: Connect the PC port on the VVX desk phone to the LAN port on the base station via ethernet cable.)
First, enable the host Polycom VVX phone's web portal under Resources tab. Go to Resources tab -> Locate MAC address and click to expand boxes -> Left side select "Modify" and place checkmark next to "Web Interface", save. Soft reboot host Polycom VVX (house icon -> settings -> basic -> restart). ***Remember to reverse this step to re-secure your phone when you're done.***
To gain access to the web portal you must use https:// then type the IP address. Your entry will look like this: https://192.168.x.x (To get the phone's local IP address, on the phone itself choose Home/Status/Network/TCP)
Log in as: Admin
Password: Phone's Password also found in Resources with MAC address
Go to Settings -> VVX D60 (see image below)

Step 2: Pair Polycom VVX D60 Base Station to host VVX
Select the checkbox to enable the VVX D60 Profile and select your pairing method from the drop down menu. We selected PC Port as it was the easiest for our testing purposes. Check the User Guide for information on Automatic and Manual Pairing. Hit the pair button, which should open up the handset settings.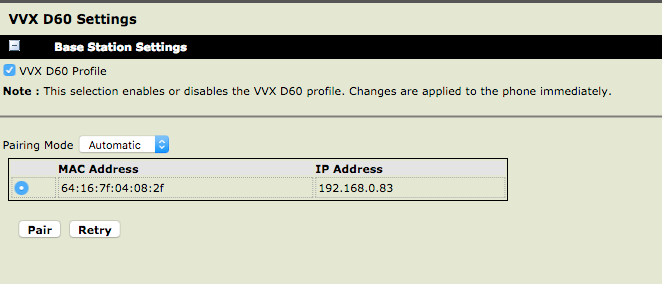 Step 3: Register handset to Base Station
On the wireless handset, navigate to Menu > Settings > Features > Registration.

Step 4: Map Lines (As Needed)
If you have two lines registered, the host VVX will shuffle the second line over to the D60 Base Station. This means that calls to the second line will not ring on the host VVX at all; in fact, the host VVX will not even show that the line exists.
If you have multiple lines and multiple handsets, you can hit the Map Lines link on the Registration page to route lines appropriately. Select "Save".

Once the base station is registered to the host VVX and the handset registered to the base station, you're ready to make calls as needed.
---
See our top business VoIP phone recommendations