OnSIP was provided the following information by Valcom. We have not actually used them in-house. If you need information on the functionality of these phones, please reach out to the phone manufacturer and/or their User Guide.
This device must be manually configured. Do not add MAC Address to Resources.
Step 1: Gather information for each user
Each user has a set of credentials that will be needed to configure each device. For each device that you are configuring, obtain the following from the User tab in your OnSIP Admin Portal:
"SIP Address" (Address of Record)
"SIP Password"
"Auth Username"
"Username"
"Domain"
"Outbound Proxy"
You can find this information in the "User" tab, click on User's name the device will be configured to expand boxes, "Phone Configuration" box:

Step 2: Log into your device
From the Valcom VIP-102B IP Solutions tool (download), scan the speaker in and access the SIP tab.
Step 3: Enter your user information from Step 1
In the SIP tab:
Transport > Accept: UDP Originate: UDP
Phone Number > Username
Authentication Name > Auth Username
Secret > SIP Password
Realm > Domain
SIP Servers - Primary > Domain
Outbound Proxy > sip.onsip.com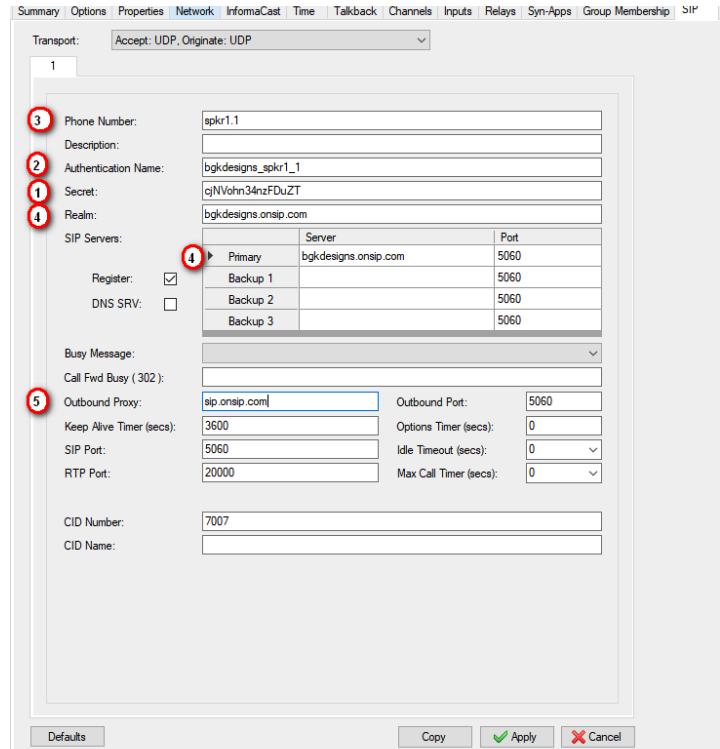 Click Apply, then do an update and reset the device.
Your Line Status will read: Registered and your User in User tab of OnSIP Admin Portal will show "Online"
Added November 2019