September 2017
This article is for the X-Lite 4.9.8 Build 84253 - 2017. For previous editions, please see this article.
Step 1: Gather information for each user.
Each user has a set of credentials which will be needed to configure each phone. For each phone that you are configuring, obtain the following:
"SIP Address" (Address of Record)
"SIP Password"
"Auth Username"
"Username"
"Domain"
"Outbound Proxy"
You can find this information in the user detail pages under the "Users" tab in the "Phone Configuration" section.

Step 2: Configure your Xlite software settings.
When you first load the device you'll be informed there is no account information and provided a link to set up your account. On subsequent attempts to set up the software, you will need to locate the "Preferences" / "Options" tab.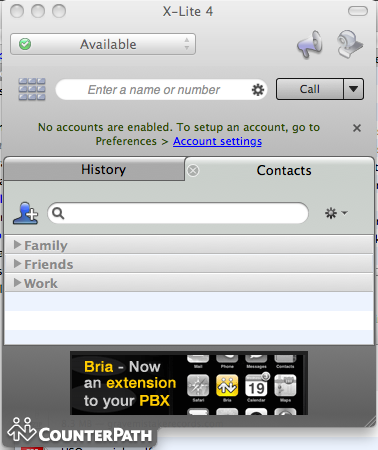 Enter the following information from Step 1 above:
Account name --> call it "OnSIP"
Username --> "Username"
Domain --> "Domain"
Password --> "SIP Password"
Display Name --> Whatever you would like
Authorization name --> "Auth Username"
Domain Proxy --> put checkmark here
Proxy Address --> "sip.onsip.com"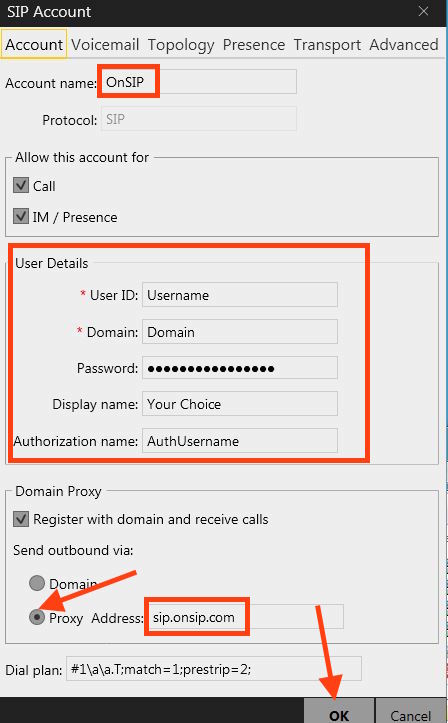 Step 3. Confirm that you have disabled all Network Address Translation (NAT) settings on the phone.
We handle all NAT related issues. So, make sure to turn off any NAT settings on the phone in order for your phone to communicate properly with our servers.  Click Topology tab, then select "NONE" for Firewall Traversal Method: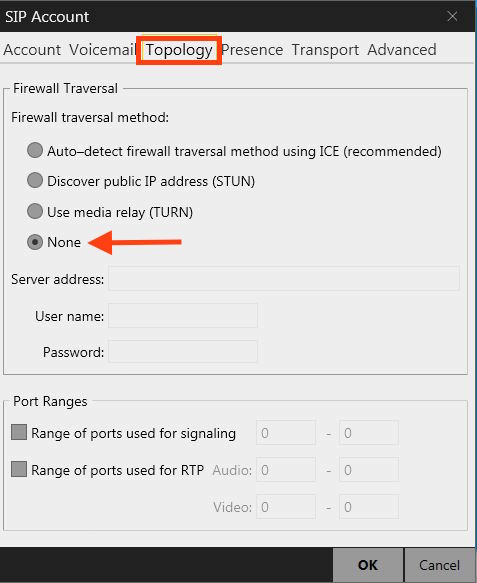 Now hit the "OK" button at the bottom. 
Step 4. Setting Signaling Transport
Select Transport tab, change Signaling Transport to UDP, then OK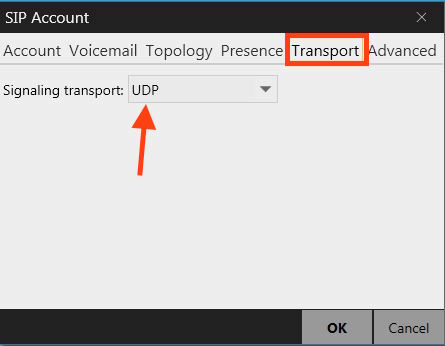 Step 5. Setting DTMF Properly
DTMF is the sound a phone makes when you push a number on a phone, used predominantly for phone menu navigation. Our system uses RFC 2833 to send DTMF. You set this by clicking on Preferences -->selecting Calls -->Send via RFC2833, then OK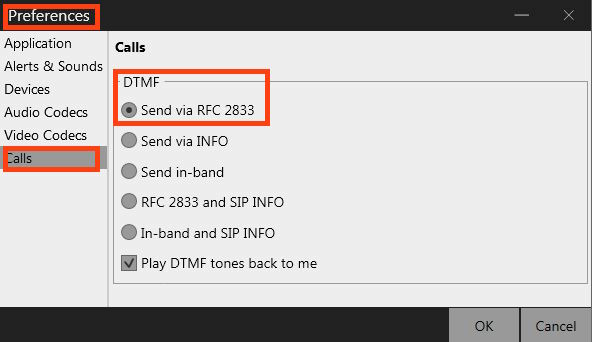 Step 6. Setting Codecs
Click on Preferences -->selecting Audio Codecs -->SPEEX Wideband -->select only G711 uLaw, G711aLaw, G.722, and GSM then OK: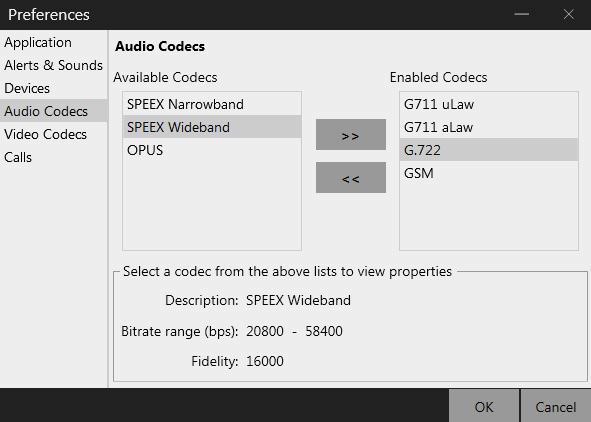 Step 7. Setting Re-Registration Period.
The default setting is 10-seconds and should be modified to 3600-seconds.  To do this:
Preferences -> Accounts -> Advanced ->Register Every (make change here)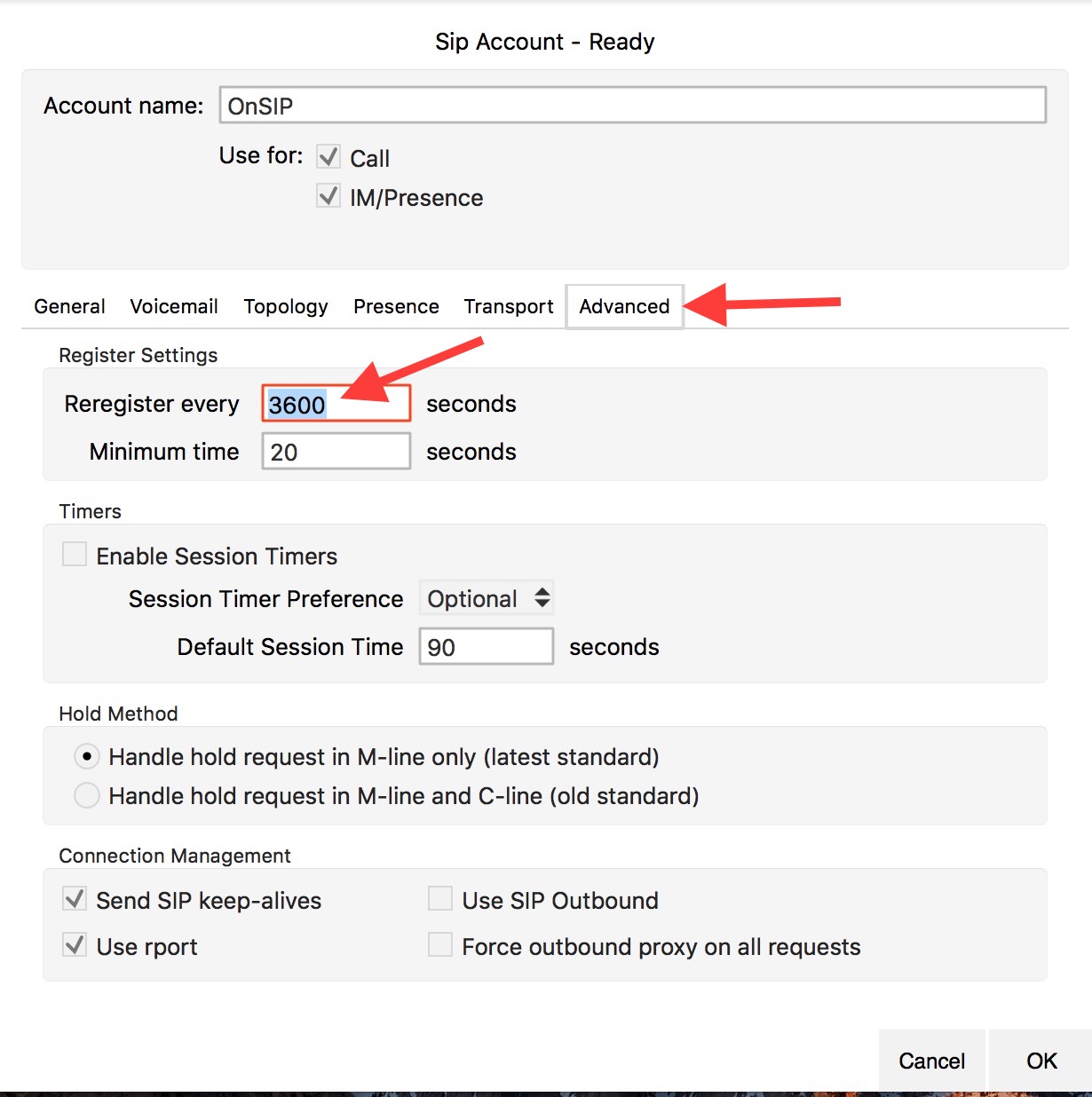 Step 8. Confirm that your phone is registered.
In the "User" portal, click on the "Users" tab. You will see a green "online" notation next to each user with a registered phone.
You should now be able to place and receive calls remember to start your outbound call with a "1" followed by next 10-digits.
---
See our top business VoIP phone recommendations