July 2018
This phone can now be provisioned to the Yealink Boot Server and does not have to be manually configured. Click HERE for our phone review.
Step 1: Gather information for each user.
Each user has a set of credentials which will be needed to configure each phone. For each phone that you are configuring, obtain the following:
"SIP Address" (Address of Record)
"SIP Password"
"Auth Username"
"Username"
"Proxy/Domain"
You can find this information in the user detail pages under the "Users" tab in the "Phone Configuration" section.

Step 2: Log into your Yealink phone through a web browser.
When your phone is powered on and connected to your LAN, use a browser to navigate to the IP address of your phone. You locate your phone's IP address by pressing the Menu button, scrolling to phone status, and pressing Enter. The IP and MAC addresses should appear at the top, or press the "OK" button from the main screen. The factory default administrative username for the phone is 'admin' and the factory default password is 'admin'.
Step 3. Enter your user information from Step 1.
Go to the "Account" tab on the web interface. Enter the information from Step 1 into the corresponding fields.
Line Active > Enabled
Label > Username
Display Name > Name of your choice
User Name > Username
Register Name > Auth Username
Password > SIP Password
Server Host > Domain
Enable Outbound Proxy Server > Select Enable
Outbound Proxy Server > sip.onsip.com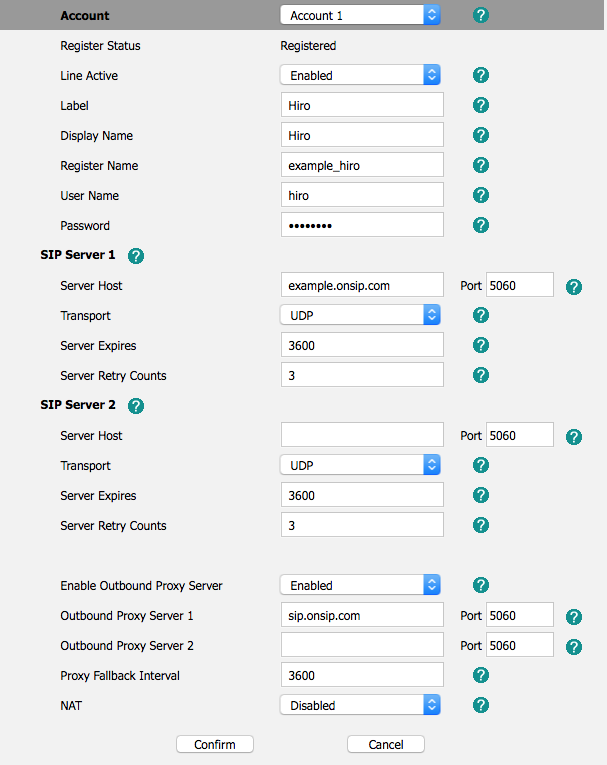 Scroll down to the bottom of the page and click on the "Confirm" button.
Step 4. Set Audio and Video Codecs
Once the page has refreshed, scroll down the page and click on Codecs. Verify that the following are listed in the "Enable codecs" section:
Audio:
Video: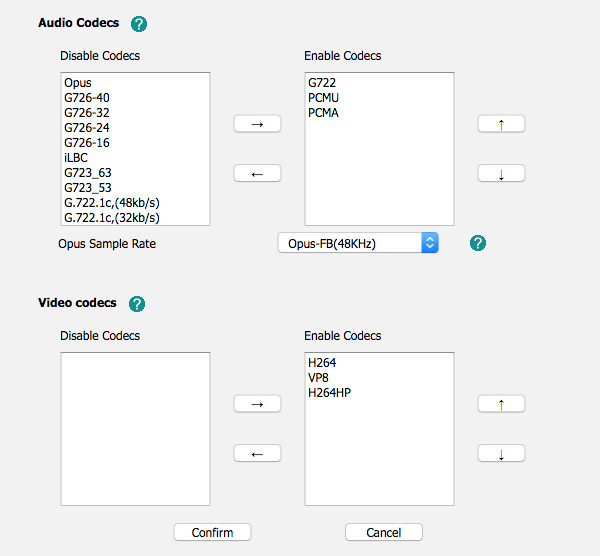 Step 5. Confirm that your phone is registered.
Under the "Account" tab expand the "Basic" section and verify that "Register Status" displays "Registered" next to it.