Setting the Default Caller ID
Navigate to The

Administrators

tab and click 

PBX Settings

then

Default Caller ID.

It is possible to set the default caller ID for your organization. This caller ID will be the value applied to all newly created users. It is also possible to reset all the existing users' caller ID settings to this default value.
Next key in the name and number to display for your account's caller ID: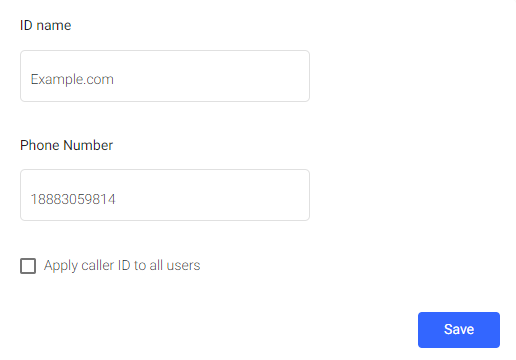 If you would like to apply this new caller ID to all existing users as well, check the box next to 

"Apply Caller ID to All Users".




Click 

"Save."

 If successful, you will see a message like the following:

If you intend to make calls outside the US, Caller ID is required to be configured in your account for the call to be successful.
Note: You may also manage individual user caller IDs on a user-by-user basis from the user detail on the user's page.